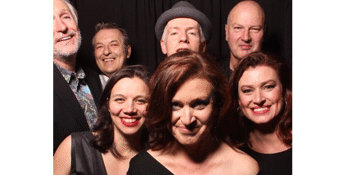 The Fyrefly
POSTPONED - Jack Howard & The Ambassadors of Love
The Fyrefly (St Kilda, VIC)
Saturday, 9 May 2020 7:00 PM
Dinner and Show
Fresh from months of touring the country with Hunters & Collectors on the Red Hot Summer tour, Jack Howard will hit the ground running and together with the marvellous Ambassadors Of Love, he's bringing his Bacharach and Beyond show back to The Fyrefly.
For the past five years, Jack and the Ambassadors have been presenting their beautiful Bacharach show around town. Now the group has enhanced the concept to include some of the other great sophisticated songs of the era - think Herb Alpert, Sergio Mendes, Jimmy Webb, The Carpenters; and of course, still plenty of Bacharach. With the fabulous Michael sisters, Heather and Marj, on lead vocals and flute and violin, Jack on vocals and trumpet, John Berto on guitar and vocal, Amy Valent Curlis on vibes and percussion, Greg Murray on drums and Rob Walker on bass; plus the great addition of John Mcall on piano and extra horns, the show has been brilliantly realised and orchestrated.
They launched the show in December 2018 and it was a sensation - a conga line circled the room by the end of the night! With the expanded line-up and their usual heart and soul, The Ambassadors will take you on a glorious retro musical ride.
Jack plays with Hunters & Collectors and in 2017, toured the world with Midnight Oil. He has been described as "one of the great quiet achievers of Australian music".
Premium Seating $38 + bf
Reserved Seating $33 + bf
General Admission $ 25 + bf
Dinners show available +$40 for 2 courses
Any unsold tickets will be available at the door on the night for an extra $5
Doors open/ Dinner: 7:00 PM
The show starts: 8:30 PM

THE FYREFLY
The Fyrefly is St Kilda's superb new dining, music and entertainment room located just down the stairs at Newmarket Hotel. Creature comforts meet sophisticated glamour, with outstanding facilities for the artists to play a huge variety of music styles including jazz, soul, funk, RnB, and even comedy.
OUR DINING EXPERIENCE
Aside from entertainment, an evening at The Fyrefly entails fine dining, top-shelf hooch and classy cocktails. We offer two or three-course dinner & show packages, or you can take your pick from our A La Carte Menu. Our menu showcases only the best locally sourced ingredients guaranteed to delight your taste buds.
CONNECT WITH US
Follow us on Facebook.
Learn more about The Fyrefly on our website.