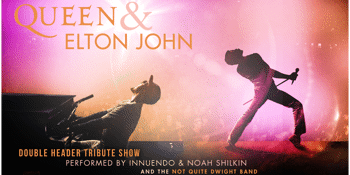 Queen & Elton John Performed by Innuendo, Noah Shilkin & The Not Quite Dwight Band
Charles Hotel (North Perth, WA)
Saturday, 14 September 2019 8:00 PM
DIRECT FROM THE BIG SCREEN TO LIVE AT THE CHARLES HOTEL!

For the first time together, presenting a dual headline show:

QUEEN AND ELTON JOHN
Performed by Innuendo + Noah Shilkin and The Not Quite Dwight Band

Let them rock you!
Daniel Macintyre (Freddie) magically transports you into an era that was, giving you an experience and taste of what it might havr felt like to be in front of the great man himself.

Say Candy and Ronnie have ya seen 'em yet?
Noah Shilkin (Elton) began his own musical journey inspired and influenced by the great piano playing singer songwrites like Elton and Billy! His reverence for their genius shows in his interpretation of Elton's legacy!