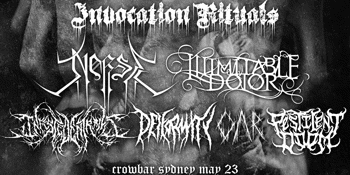 Metal Sydney Metal & Kelly Tee Black Metal Reviews present
Invocation Rituals
Crowbar Sydney (Leichhardt, NSW)
Sunday, 23 May 2021 4:00 PM
Metal Sydney Metal & Kelly Tee Black Metal Reviews are proud to announce Invocation Rituals, a day & night of black, death and extreme metal being held at the Crowbar Sydney, Sunday 23rd of May 2021.
Plaguing the stages and corrupting your souls is black metal heavies from Sydney NORSE, Sydney's death/doom metal band ILLIMITABLE DOLOR, death metal band INFESTED ENTRAILS hailing from Orange, Sydney's old school death metal band DEIFORMITY, post black metal band OAR hailing from Sydney and death metal band PESTILENT DOOM from the Gong!
Tickets are limited due to NSW social distancing restrictions, so grab your tickets while they last, support the bands, support the venues. You do not want to miss this deadly festival, it's going to be killer! See you there.