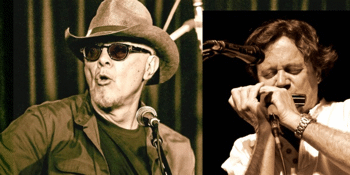 Glenn Cardier and Christian Marsh
The 'Wild At Heart' Tour In Concert
The Junk Bar's Skukum Lounge (Ashgrove, QLD)
Thursday, 19 September 2019 7:00 pm
Glenn Cardier and Christian Marsh
In Concert
The Junk Bar, Ashgrove, Brisbane.
Thursday 19th September 2019
Presenting Cardier's highly acclaimed 11th album, including a 24 page lyric booklet.
'...a true Australian music legend' (Peter Noble, Bluesfest)
'A revelation! Imagine an Australian version of Warren Zevon - smart, clever, pithy lyrics and a dry, sardonic delivery.' (Stuart Coupe)
There are aspects of Glenn Cardier's story that could best be described as being the stuff of legend. He appeared at Sunbury, Australia's first iconic rock festival some 45 years ago as well as performing in those early years with the likes of Frank Zappa, Harry Chapin, Cheech and Chong, John Hammond, Dave Van Ronk and Spike Milligan.
Christian Marsh (harmonica)
'It's is an amazing experience to hear this supposedly simple instrument produce such complex music'
Wild At Heart comes hot on the heels of his highly acclaimed Cool Under Fire CD which gained him a First Place Win in the 2016 International Song Competition (16,000 entrants, 146 countries). His resurrection as a songwriter and performer since 2000 has been nothing short of extraordinary.
'There's no-one else on the Australian music scene quite like Glenn Cardier; from the finely chiselled storylines, and the razor sharp observations to the off- kilter delivery of his cryptic vignettes, he is a genuine one-off, a maverick, and you wouldn't want it any other way.'
(Rhythms Magazine)