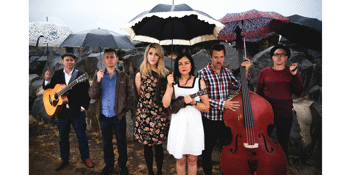 The Fyrefly
POSTPONED - Feelin' Groovy at The Fyrefly
The Fyrefly (St Kilda, VIC)
Friday, 24 April 2020 7:30 pm
Songs of social and political unrest, of contemplation and reflection. Songs of longing, questioning, and love. From the satirical and tongue-in-cheek to the heart-achingly tender, the music of Paul Simon and Art Garfunkel forms the inspiration for Melbourne band Feelin' Groovy, led by jazz vocalist and singer-songwriter, Helen Catanchin. A lifelong fan of the folk-rock duo's gorgeous harmonies and poetic lyrics, Catanchin has arranged their most well-loved works for this outstanding 6-piece jazz ensemble.

Joined by the gorgeous singer-songwriter and improviser Clancye Milne, together these two storytellers bring the iconic duo's music to life, with the help of some of Melbourne's most renowned and accomplished jazz musicians: Sam Lemann and Craig Fermanis (guitars), Philip Rex (double bass) and Hugh Harvey (drums).
https://www.youtube.com/watch?v=iwLlu2z3ukE
https://www.youtube.com/watch?v=FL2EydnGKzs

Any unsold tickets will be available at the door on the night for an extra $5
Doors open/ Dinner: 7:30 PM
The show starts: 8:45 PM

THE FYREFLY
The Fyrefly is St Kilda's superb new dining, music and entertainment room located just down the stairs at the Newmarket Hotel. Creature comforts meet sophisticated glamour, with outstanding facilities for the artists to play a huge variety of music styles including jazz, soul, funk, RnB, and even comedy.

OUR DINING EXPERIENCE
Aside from entertainment, an evening at The Fyrefly entails fine dining, top-shelf hooch and classy cocktails. We offer two or three-course dinner & show packages, or you can take your pick from our A La Carte Menu. Our menu showcases only the best locally sourced ingredients guaranteed to delight your taste buds.

CONNECT WITH US
Follow us on Facebook.
Learn more about The Fyrefly on our website.