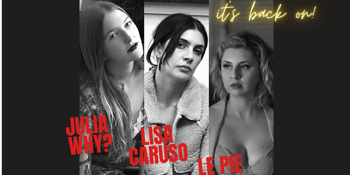 JULIA WHY? + LISA CARUSO + LE PIE
Waywards (The Bank Hotel) (Newtown, NSW)
Thursday, 2 December 2021 8:00 pm
TRIPLE HEADLINE SHOW!
JULIA WHY?
Stargaze artist JuliaWhy? returns to the stage for the first time in two years, debuting a yet to be heard set of hypnotic songs that dance between grit and beauty. Welcoming new band member guitarist Kat Harley (Mezco, Prudence, The Laurels) with Le Pie on drums, a new chapter for JuliaWhy? begins.

"Halfway through this MBV-indebted slice of cloud-skipping shoegaze, a surprising one-liner comes out of nowhere and slaps the listener across the face." - The Guardian
LISA CARUSO
Known for her unique vocal and arrangements nostalgic to 90s indie and 60s pop eras, Caruso's
debut LP 'In Feelings' brought to life a soundtrack of optimism holding as much guts as it has passion and appease.
"Lisa Caruso has one of the best voices in Australia. Her songwriting is anchored in the tradition of confessional poets such as Martha Wainwright and Joni Mitchell, dealing in heartache, turmoil and sacrifice, sporting a desperately lovelorn quality that goes with red wine and red curtains, regrets and romances half-remembered."- The Guardian
After tearing onto the Sydney music scene in 2015 with her critically acclaimed debut single, Secrets, Le Pie has steadily been releasing music, film clips and growing a fan base of dedicated followers the world over.
Described by Rolling Stone as 'Malibu Barbie after a deck of menthol cigarettes and an old fashioned', Le Pie merges dream pop with grunge and a hint of 1950's girl group charm.
TICKETING INFO
Do not attend if you are feeling unwell
All audience members will be required to sanitise & check-in upon entry to Waywards.
All patrons must be fully vaccinated and be able to display proof of vaccination upon entry
The venue will be taking a number of precautionary measures to ensure patron safety, including:
Hand sanitiser dispensers on entry and throughout venue
Signage and social distancing markers throughout the venue
Regular sanitising of the venue and full clean after each day.