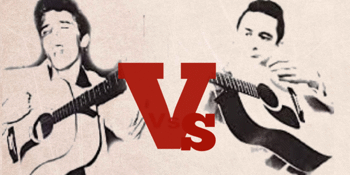 Neon Cactus Productions presents
Clash of the Titans - Cash Vs The King
feat. Rusty Pinto & Charlie Scott plus band
Lyric's Underground (Maylands, WA)
Sunday, 31 October 2021 5:00 pm
CLASH OF THE TITANS -
Cash vs The King
A unique DUO showcase that features
LIVE Performances of their finest recordings for Sun Records
*****
Rusty "Elvis Presley" Pinto
Vs
Charlie "Johnny Cash" Scott
*****
This show consists of –
Two (2) x full 1 hour sets with interval
Rusty Pinto - Elvis vocals and lead guitar
Charlie Scott - Johnny Cash vocals and rhythm guitar
A unique DUO showcase that features :-
LIVE Performances of Elvis Presley & Johnny Cash music from their finest recordings at Sun Records, which includes all their timeless classics.

This is NOT an impersonator show, It is all about the stories and the music.
Bring your dancing shoes!!!

---------------------

Rusty Pinto
A unique talent known across the world as a passionate and authentic performer. Based in the city of Perth in Western Australia, Rusty's international career has seen him master many genres within the rockin' scene. From pepped-up rockabilly through to red hot rhythm'n'blues, blues shouters, swing and Texas country blues, Pinto is a performer who refuses to be held back by any one category.

Charlie Scott
Charlie Scott is an in –demand, award winning musician from Perth, Western Australia. Performing multiple venues weekly around town and regionally with his deep warm vocals, acoustic guitar & stomp box. Best known for his Johnny Cash renditions, alongside originals, he performs his own, unique versions of popular cover songs performing raw from the heart, provoking emotional responses from his audiences.
Charlie Scott performs fine acoustic renditions of some of the worlds' most well weathered tunes, from Pop to Rock, Country to Blues, Classic to Contemporaries and everything in between. There is no style, genre or era of music that can't be touched upon.