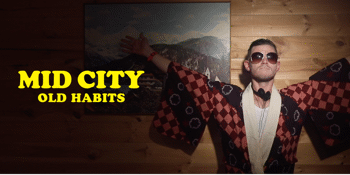 Tiny Monster & Select Music presents
Mid City – Old Habits Tour
with special guests
The Old Bar (Fitzroy, VIC)
Friday, 18 January 2019 8:30 pm
Having burst onto the scene and into our ears earlier this year, Melbourne's MID CITY are going to start 2019 with a bang. Drumming up industry attention both internationally and at home, the four piece will be taking their latest single "Old Habits" on the road for the first time, playing a string of dates up and down the Eastern Seaboard.
Taking in metro cities and regional centres from Melbourne to Brisbane and everything in between, MID CITY are pumped to play their anthem-esque songs and infectious live show to new faces.
Not content to wait till next year, the band have a new video for "Old Habits", giving you a little taste of what to expect at a MID CITY show. Premiered last night by revered UK publication, Clash Magazine, the video demands attention and you'll want to watch it again. Clash called it "a witty, eye-catching affair".
Video director Nick Manuell said; "I really wanted to capture MID CITY's strong mix of pathos and wit on this. That contrast of bravado and resignation in the vocals inspired this kind of eccentric, washed-up revisionist living out his lost dreams in a lounge room somewhere back in a now hazy past."
And the band commented; "We think this clip really embodies the sentiment of the song but also the chemistry of the band and how we go about what we do. Videos on tiny budgets can be super hit and miss but this ol' skool, slightly tongue and cheek vibe just felt like home for us. Joel was maybe too comfy in that kimono and shades combo... He wore it round the place for a few days after the shoot. Wannabe method actors hey!"