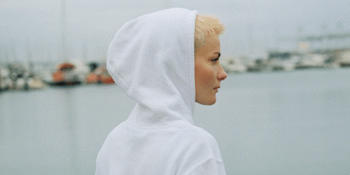 Hutch Collective & New World Artists present
Ro - Melbourne
with special guests
The Grace Darling Hotel (Collingwood, VIC)
Saturday, 8 February 2020 8:00 pm
Melbourne's Ro has returned with new single "To Pretend" – a musing on 'the birds and the bees', and learning to ditch bedroom expectations and stop pretending.

Growing up like most young teens cluelessly discovering her sexuality, Ro struggled with finding a balance between her own body and the expectations of sex you find on the internet and in popular culture.

With nothing but a few clicks and a dim pixelated screen, she searched for what is 'normal', what is expected, what she should be:
[Ro] "When I looked through porn the female orgasm either seemed too obvious or I couldn't find it anywhere. So I didn't know how to act. I thought I was a weirdo when I wasn't easily satisfied. I thought I was flawed when I didn't completely and utterly enjoy myself the whole time.

I wanted to be the Victoria's Secret model, the clean-shaved dream, posing and pouting in magazines and blockbusters with perfect bodies. I didn't realise how brainwashed I was.

To Pretend is about being more open with yourself and someone you love, free of any unrealistic expectations. It's about realising that you don't have to pretend to be somebody you're not to keep them interested. Especially in their physical embrace."