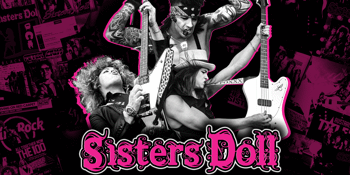 Sisters Doll & The Leadbeater Hotel
Sisters Doll - 10 Year Anniversary Show
The Leadbeater Hotel (Richmond, VIC)
Saturday, 29 February 2020 8:00 pm
10 Years have passed and Sisters Doll are as strong as ever. What better way to celebrate this achievement of 10 year's with a huge rock n roll party at The Leadbeater Hotel Richmond on Saturday 29th February 2020.

This show is one for all you crazy DOLL fans, it's going to be jam packed with as much flash, flare and all the good vibes you can get. After a successful 2019 living it up at the ARIA awards, opening up "Good Things Festival", touring nationally and their hit single "Black Mirror" reaching number one on the iTunes rock charts, 2020 will be the Year of the DOLL. With overseas plans and a 3rd album on the way make sure you head down and see this juggernaut before they take off overseas and conquer the rest of the world.

This show will be the party of the year so get your tickets now before it's to late.

Don't miss out on what will be a rock n roll experience like no other. Start your Leap year with a bang.