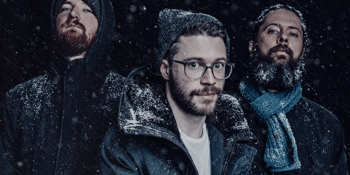 Bird's Robe & Niche present
sleepmakeswaves 'these are not your dreams' tour 2022
with special guests Closure in Moscow
The Basement - Canberra (Belconnen, ACT)
Friday, 23 September 2022 7:00 pm
Australian instrumental post-rockers sleepmakeswaves have announced their
'these are not your dreams'
Australian tour will be rescheduled for September/October 2022, due to the ongoing COVID-19 pandemic.
The band released a statement to fans, saying:
You come to me, on the day my daughter is to be married, and you ask me to postpone your tour?
Friends, we are announcing today that our Australian headline tour is being pushed back by several months to the greener pastures of September/October.
We made this decision a few weeks ago and wanted to lock in the new dates and supports before we made the announcement.
If you're someone who purchased a ticket for this show last year, or even in 2020, this is probably starting to feel like an endless cycle of postponements and disappointments from sleepmakeswaves.
We can only apologise and hope that you can understand this was necessary due to a whirlpool of circumstances, some COVID-related - we don't take your support for granted and we appreciate your patience.
In the meantime, and on a happier note, we have some other announcements:
- Our next album will be recorded in the middle of the year. We have been working on this since 2020 and are seriously thrilled to share the new material with you. If you've been listening since the beginning, or if you've jumped on this chaotic broken down rusted post prog rock bus more recently, thanks. And press the bell if you'd like to stop and get off, that's ok too.
- We have the mighty Closure in Moscow and our long term sweethearts Tangled Thoughts of Leaving opening for us on most dates this tour. These guys are going to melt faces and share in the chaotic spirit of rock.
- The Live at the Metro vinyls have been made and are on their way to Australia now.
Our debut album quietly had its tenth birthday last year. At some point before the vinyl production market imploded we were going to release a deluxe edition of ASWDE for its 10 year anniversary. This has been designed by James Stuart and looks cool as hell, and should be available for pre-order soon for those that want to indulge in the nostalgia of 2011-era aussie post rock (which we hope is all of you)
We miss you, we love you, we will see you soon.
smw
Once sleepmakeswaves (finally) hit the road again in 2022, the 'these are not your dreams' shows will feature new music from their EP trilogy of the same name.
The new record, titled
'these are not your dreams'
was released as a full length record in 2020, debuting at #25 on the ARIA Chart and #1 on the 100% Independent Chart.
Rather than following a conventional release pattern, new songs were released as a series of 3 Eps:
'No Safe Place'
,
'Out of Hours'
and
'Not an Exit'
.
The band will visit Newcastle, Canberra, Adelaide, Perth, Brisbane, Melbourne & Sydney, playing new material and rare older tracks – as well as some classic sleepmakeswaves bangers.
sleepmakeswaves
---
2 / 4
'these are not your dreams' Australian tour 2022
w/Closure in Moscow & Tangled Thoughts of Leaving
Thu 22 Sep – Cambridge Hotel, Newcastle NSW*
Fri 23 Sep – The Basement, Canberra ACT*
Fri 30 Sep – Manning Bar, Sydney NSW
Sun 2 Oct – Rosemount Hotel, Perth WA
Wed 5 Oct – The Triffid, Brisbane QLD
Fri 7 Oct – Max Watts, Melbourne VIC
Sat 8 Oct – Lion Arts Factory, Adelaide SA
Presented by Bird's Robe & Niche Talent Agency
Tickets on sale from sleepmakeswaves.com & venue websites
*TTOL not appearing
'these are not your dreams' trilogy is out now via Bird's Robe/MGM
Media: Mike Solo // Bird's Robe Records //
birdsrobe@gmail.com
SLEEPMAKESWAVES // LISTEN & WATCH
'Zelda'
https://www.youtube.com/watch?v=T6WjbAKF09U
'these are not your dreams' full trilogy streaming online at
www.sleepmakeswaves.bandcamp.com
Watch 'Great Northern'
https://www.youtube.com/watch?v=YZl0Vr7mgeY
Watch 'Something Like Avalanches' (live)
https://www.youtube.com/watch?v=hnqqATlYPaw
Watch 'The Stars Are Stigmata' (live)
https://www.youtube.com/watch?v=iGvznRV6gy8
Watch 'To Live Is To Die' (Metallica)
https://www.youtube.com/watch?v=ektGmfe1wwM
Watch 'Children' (Robert Miles) – triple j Like A Version
https://www.youtube.com/watch?v=De8I6O1VfAg
Listen to 'Midnight Sun':
https://youtu.be/JG2a9hAn-SY
More about sleepmakeswaves
It's been a crazy decade for sleepmakeswaves, the little Sydney quartet who dreamed big.
Hundreds of shows amongst 16 Australian tours, 6 European tours, 2 North American tours, 2 Asian & New Zealand tours…
---
3 / 4
Unexpected critical acclaim including 3 ARIA nominations, 2 AIR Award nominations and a nomination for a J Award, amongst highly rated reviews from Rolling Stone, The Music, The Independent and more.
Airplay including 3 songs added to triple j rotation, spending a combined 20 weeks in the CMJ Top 200 at US college radio and airing on BBC6.
Even a glimmer of brief commercial success with 2 ARIA Top 40 albums and a #1 spot on the 100% Independent Chart for 'Made of Breath Only.' They even cracked the Top 100 in Kazakhstan.
Formed via an ad on Myspace (remember that?), the band's story started online and they continue to benefit from fans sharing their music on the internet. From their debut unexpectedly clocking up 50,000 downloads online, to hitting 200,000 views as the soundtrack to a romantic 'Twilight' movie fan video, or as the thumping opening theme for the AFL football season coverage on Channel 7, sleepmakeswaves' music has always taken a life of its own amongst fans online. Recently, their triple j Like A Version tribute to Robert Miles' 'Children' hit close to 1 million spins online, as did their Metallica tribute 'To Live Is To Die', whilst the band's Spotify listeners top 1 million worldwide.
However, the story of the band is not complete without a nod to the work put in on the live stage.
Amongst the 300+ live dates played over the past few years, the band have visited 30 countries and headlined sold out shows on 5 continents. They've played festivals including SXSW (USA), ArcTangent (UK), Euroblast (Germany), Dunk Festival (Belgium), Strawberry Festival (China) & NH7 Weekender (India). They've toured with and befriended a host of iconic and diverse acts – Karnivool, COG, Devin Townsend, Underoath, Russian Circles and many more. They've forged links with and created touring opportunities for many of their international peers in Australia – 65daysofstatic, Rosetta, The Contortionist, This Will Destroy You, And So I Watch You From Afar and more. They fulfilled a decade-long dream in their hometown by headlining Sydney's iconic Metro Theatre to a packed house and recording the show for triple j's Live at the Wireless (going on to headline there several more times).
Despite all these unprecedented milestones, most importantly, their biggest achievement has been to endure and continue making music and performing for their fans. Through lineup changes, an ever-more-difficult economic climate for independent niche artists, theft of money and equipment, computers crashing, lost baggage, injuries, illness, operations, failed relationships, fire alarms, red tape and more, this band has maintained the passion and enthusiasm to continue creating. Their fans have supported them – through pre-order campaigns to make new albums, through ticket sales, merch sales and social media, through images shared of tattoos, gifts of birthday cakes in Poland, drinks in Hungary, videos of cover versions from India, tour guides in China, or just a handshake and a smile at the merch desk after the show.
So…the continuation of this band is an ongoing a celebration of all that. A way to say thank you for everything, with a quick glance backwards, before continuing on with many more new things to come.
Expect plenty of surprises, new music and one heck of a live post-rock show from this hard-working still-young band.
Check out more at
www.sleepmakeswaves.com
sleepmakeswaves discography:
these are not your dreams EP trilogy (2020)
'To Live Is To Die' (Metallica tribute) (2018)
---
4 / 4
'Children' (Robert Miles – Like A Version) (2017)
'Made of Breath Only' album (2017)
feat. 'Tundra' & 'Midnight Sun'
'Love of Cartography' album (2014)
feat. 'Something Like Avalanches' & 'Great Northern' & 'traced in constellations'
'…and then they remixed everything' (2013)
'…and so we destroyed everything' album (2011)
feat. '(hello) Cloud Mountain' & 'in limbs and joints' & 'now we rise and we are everywhere'
split EP with tangled thoughts of leaving (2009)
feat. 'we sing the body electric' & 'keep your splendid silent sun'
'in today, already walks tomorrow' EP (2008)
feat. 'One day you will teach me to let go of my fears' & 'it's dark, it's cold, it's winter'