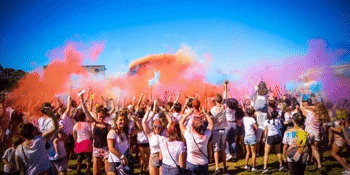 Colorfest Canberra
Thoroughbred Park (Lyneham, ACT)
Sunday, 24 February 2019 11:00 AM
Come and enjoy a fun filled day. One massive festival with non-stop music & dance.
This is one of kind Colour festival that will fuse all the elements of EDM, Commercial with touch of RNB Music, Pop and House. Live performances from the City's best DJ's.
A great way to spend time with the family as you go crazy in the paint and let your true colours show.
Throw colourful powder in the air and paint yourselves with various colours, to express the freedom and colour in your everyday life.
You don't want to miss this family friendly festival that partners Colour, music and great food.

CHILDREN UNDER 10 ENTER FREE WITH A PARENT OR GUARDIAN