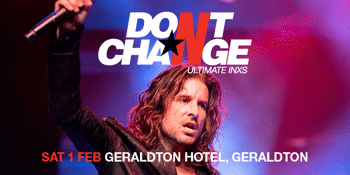 Don't Change - Ultimate INXS - The 2020 Tour
Celebrating 40 Years of INXS
Geraldton Hotel (Geraldton, WA)
Saturday, 1 February 2020 8:00 pm
THE 2020 TOUR
Celebrating 40 Years of INXS
ProShows Entertainment presents Don't Change – Ultimate INXS on their 2020 Tour, celebrating 40 years since INXS burst onto the market in 1980 with their self-titled debut album "INXS".
Don't Change – Ultimate INXS recreates the energy and passion of INXS in an explosive 2 hour concert style live show.
Considered to be the most authentic INXS tribute production on the market, fans have been partying to XS with Don't Change – Ultimate INXS at sell out shows across the country.

Featuring a line-up of 6 exceptional musicians led by the charismatic front man Blair Dwyer, Don't Change – Ultimate INXS perform all the biggest INXS's hits spanning 3 decades with tracks such as Never Tear Us Apart, Original Sin, Don't Change, Listen Like Thieves, Burn for You, Need You Tonight, Pretty Vegas, I Send a Message, Suicide Blonde, Devil Inside and many, many more!
A truly one-of-a-kind live experience not to be missed.
Tickets to the Ultimate INXS Party in 2020 will sell fast!
For all artist info and tour dates visit
https://www.facebook.com/DontChangeINXS
JOIN THE FACEBOOK EVENT PAGE FOR INFO & UPDATES – CLICK HERE
This is a Geraldton Hotel Beergarden Show – We party rain, hail or shine!