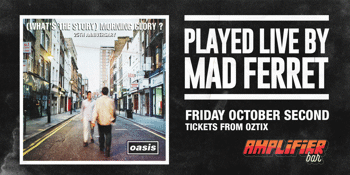 What's The Story?
Amplifier Bar (Perth, WA)
Friday, 2 October 2020 8:00 PM
25 years ago, Oasis followed up their incendiary debut Definitely Maybe with the most famous album of their career: (What's the Story) Morning Glory - Noel Gallagher's finest hour as a songwriter.

Born out of chaotic recording sessions at Rockfield Studios in Wales, this album catapulted Oasis to the top table of international music acts and worldwide fame. It featured legendary hits such as Roll With It, Champagne Supernova, Don't Look Back in Anger and of course the iconic Wonderwall.

Now, on the exact 25th anniversary of its release, WA's foremost Oasis tribute act Mad Ferret give two fingers to the horror-show of 2020 and come to Amplifier Bar to play the entire album from start to finish - plus another set full of Oasis classics!

The glorious meeting of five Britpop-loving Perth musicians, Mad Ferret are dedicated to reproducing the legendary stadium rock swagger of one of the biggest bands of all time: OASIS.

Formed in late 2016 for a one-off tribute night, the five members found the chemistry between them so strong they continued on, playing a number of packed shows throughout Perth and building up a sizeable following.

Mad Ferret bring Oasis's fifteen-year repertoire to life, and give you a stage show worthy of the Manchester quintet themselves. Join us to celebrate the stadium rock madness of this classic album at Amplifier Bar!