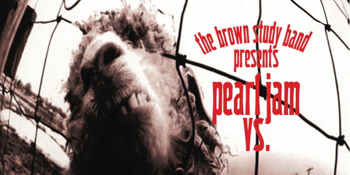 Six By Nine Agency presents
THE BROWN STUDY BAND | PEARL JAM "VS" TRIBUTE
with special guests THE LOUNGE FLYS & STU MCKAY (Solo)
Charles Hotel (North Perth, WA)
Friday, 26 August 2022 7:30 pm
WA's very own THE BROWN STUDY BAND are set to return to THE CHARLES HOTEL in NORTH PERTH on FRIDAY 26 AUGUST for a massive tribute to PEARL JAM'S classic album "VS", with special guests THE LOUNGE FLYS performing the best of Stone Temple Pilots and STU MCKAY (Solo)
Released on 19 October 1993, Pearl Jam's second studio album "VS" unleashed the modern-rock classics Animal, Go, Daughter, Rearviewmirror, Dissident and would go on to be celebrated as one of classic albums of the 90s, and continued inspiration for aspiring rock bands to this day.
You'd think an instantly popular young band would fear a backlash when it came time to make its second album. Pearl Jam seemed to welcome one. With 1993's Vs., they pitted themselves against the grunge masses they helped create, crafting a dozen punked-out songs that left behind the Jumbotron ambition of their debut, Ten.
(NICK CATUCCI – ROLLING STONE – 29 MARCH 2011)

With popular appearances at WA tribute nights Freopalooza, Grungefest and Riverpalooza, WA's favourite Pearl Jam practitioners THE BROWN STUDY BAND, celebrate the classic album "VS" at the Charles Hotel.

THE BROWN STUDY BAND
performing PEARL JAM "VS" IN FULL + CLASSIC CUTS
with special guests
THE LOUNGE FLYS performing STONE TEMPLE PILOTS
STU MACKAY (Solo) performing THE BEST OF STU!!
SATURDAY 26 AUGUST – CHARLES HOTEL, NORTH PERTH
DOORS OPEN 7:30PM | TICKETS FROM OZTIX

JOIN THE FACEBOOK EVENT PAGE: CLICK HERE

For all THE BROWN STUDY BAND PRESENTS info and show dates visit:
www.facebook.com/bsbpearljam