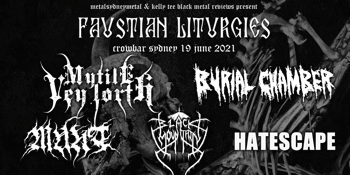 Kelly Tee Black Metal Reviews & Metal Sydney Metal present
Faustian Liturgies
Mytile Vey Lorth, Burial Chamber, Munt, Black Mountain & Hatescape
Crowbar Sydney (Leichhardt, NSW)
Saturday, 19 June 2021 7:00 pm
Kelly Tee Black Metal Reviews, and Metal Sydney Metal are proud to present 'Faustian Liturgies' a ceremony of ascension and succession by way of a night of extreme metal, to be held at the Crowbar, Saturday 19th of June 2021.

Plaguing the stages with their blasphemous and hateful sounds are Canberra's blackened death heavies, Mytile Vey Lorth, Sydney's death metal band, Burial Chamber, Melbourne's Blackened Grind band, Munt, Canberra's black metal band, Black Mountain and introducing Novocastrian death metal band Hatescape.

Grab your GA tickets and come support the bands, break your necks and get your metal fix. What a time this will be, we hope to see you there.