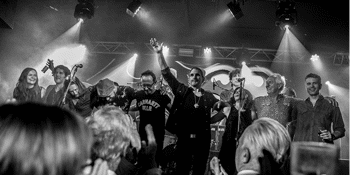 The Dead Flowers plays the Rolling Stones
Rosemount Hotel (North Perth, WA)
Friday, 3 April 2020 8:00 PM
The 'Dead Flowers' is a collective of amazing local musicians with a resume as good as anyone. They band together on occasions to pay homage to their favourites of the Rolling Stones. Having performed three albums at the Fremantle institution the Newport Record Club they quickly became one of the most in demand line ups with punters flocking to the shows.
With a huge line up this band nail the vibe like no other. No Mick impersonator in a jump suit, just a bunch of bloody good musicians playing some songs they love.
The band features Nick Sheppard (The Clash, The Cortinas), Tom Fisher (Tom Fisher and the Layabouts, Tim Minchin, Carus), Greg Hitchcock (You Am I, The Neptunes), Bill Rogers (The Zydecats, Cold Chisel, Dragon), Kilian Albrecht (Tom Fisher and the Layabouts, Oats Supply), Marz Frisina (The Domnicks), Ian Campbell (King Crush, Oats Supply), Toby Gosfield (The Ground) and Billie & Rosie Rogers (Billie Rogers and the Country Gentleman).