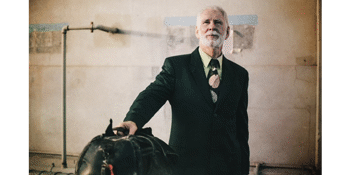 The Fyrefly (St Kilda, VIC)
Sunday, 24 February 2019 7:00 pm
VINCE JONES

GA $37 + bf, reserved seating $42 + bf
Online sales close at 4.30pm on the day of the show unless sold out, tickets will be available at the venue.

Vince Jones has set the benchmark for Australian Jazz singers since his emergence in the jazz clubs of Melbourne in the late 70s and early 80s. His 20 album, international career has never hesitated in its musical evolution - a career played in the moment.

He is that rare genre-defying artist who creates music without borders. From Iris DeMent's folk "Our Town" to his original piano heavy, new age "Wonderworld", he comments, sometimes uncomfortably, about the world we live in, from an unashamedly idealistic perspective.

His intuitive readings of the Great American Songbook are sensitively true to composer and artist. He is a wonderful trumpet player as his style has developed a distinctive reserve and subtlety. He plays a little less and draws a good deal more from it than he did in early days.

A brief solo from Vince is worth a hundred notes played with less discretion. Particular about the musical company he keeps, he continues to enjoy playing with the best jazz musicians the country has to offer. Sam Keevers (piano), Ben Robertson (Bass) and Danny Fischer (Drums), are no exception.
Doors open/Dinner: 7.00 PM
The show starts: 8:00 PM

THE FYREFLY
The Fyrefly is St Kilda's superb new dining, music and entertainment room located just down the stairs at Newmarket Hotel. Creature comforts meet sophisticated glamour, with outstanding facilities for the artists to play a huge variety of music styles including jazz, soul, funk, RnB, and even comedy.
OUR DINING EXPERIENCE
Aside from entertainment, an evening at The Fyrefly entails fine dining, top-shelf hooch and classy cocktails. We offer two or three-course dinner & show packages, or you can take your pick from our A La Carte Menu. While our dishes are subject to change, our menu showcases only the best locally sourced ingredients guaranteed to delight your taste buds.
CONNECT WITH US
For the latest music news, events and more sign up for our newsletter.
Follow us on Facebook.
Learn more about The Fyrefly on our website.