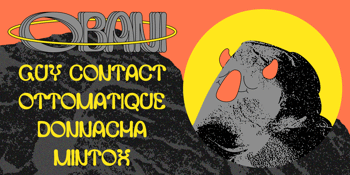 Jack Rabbit Slim's (Northbridge, WA)
Friday, 1 October 2021 9:00 pm
Something is off.
Party number five doesn't fall on the last Friday of September, but the first Friday of October. No matter though, everything else remains the same, and by that we mean: Totally different.

Spring has well and truly sprung, and OᗷᗩᑎI has worked its hazy magic, drawing in its most coveted set of wheelers and dealers yet.The conditions for a promising, poignant party have been met. Dress in your finest dance threads, quickly spritz your favourite cologne, and make sure you're well fed before dipping into the liquor.

Your Friday night entertainment awaits thee, inside the belly of Oh-Bah-Knee [Echo].

___
As hosts, we pay our respects to the Whadjuk Noongar people - traditional custodians of the unceded land we are fortunate enough to gather upon. Be they past, present, or emerging we recognise their perseverance and dedication to culture and country.

___
𝗕𝗶𝗹𝗹:
Guy Contact
Mintox
Ottomatique
Donnacha

___
Obani is an event for anyone and everyone. Bigoted and antisocial behaviour of any kind will not be tolerated under any circumstances. If you feel unsafe or discriminated against at any point, please seek the help of security, bar staff or anyone on the door.
The key to any good party is the people you party with, and for this reason we take a very firm stance on belligerence. All offenders proven guilty will be immediately removed from the venue and noted/banned from future events for the sake of maintaining a strong, safe, fun community.

___
@edd_atchison, the crazy cartoonist, pumped this one out.