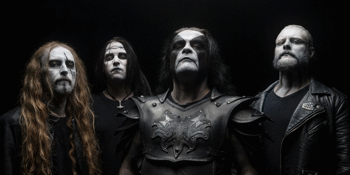 Hardline Media
POSTPONED - Abbath (NOR)
With Special Guests
Max Watt's Melbourne (Melbourne, VIC)
Saturday, 25 September 2021 8:00 pm
ON SALE NOW!!!!!!!!!!
ABBATH - AUSTRALIA 2021!!!
HARDLINE MEDIA proudly presents the return down under of ABBATH!!!
CANBERRA, BRISBANE, SYDNEY, MELBOURNE and HOBART - GET READY - ABBATH descends in SEPTEMBER, 2021!
Touring their most recent album, 'OUTSTRIDER', Australia get set for round two of purely Abbath blackened mayhem. The legendary ex frontman of IMMORTAL returns to AUSTRALIA with this highly acclaimed album and unforgettable stage show in SEPTEMBER 2021.
When ABBATH announced that he had left IMMORTAL, it sent massive shockwaves through the Metal scene. The iconic frontman had long become the "face" of the NORWEGIAN BLACK METAL scene, his image synonymous with the genre. Upon releasing his debut album with his eponymous new band in 2016, ABBATH's true fans were satiated with a dose of icy, blackened fury.
Now, the Norwegian giant returns for round two, armed with a refined lineup and ready to strike with a sophomore effort that is sure to once again exceed the expectations of ABBATH's loyal fanbase.
Whilst harking somewhat back to an IMMORTAL sound, ABBATH draws from NWOBM and MELODIC METAL influences, adding a fresh new flavour to the sound that the band's founder came to define.
'OUTSTRIDER' consists of eight, crushing original songs and concludes with a fiery BATHORY cover. These shows will deliver a full-on, aural assault from start to finish with frigid riffage and a robust set list that are layered with vocals from one of the most identifiable voices in BLACK METAL. If you thought ABBATH came in hot with their last visit, just wait until you see this!
TOUR DATES:
WED 22 SEP - CANBERRA - THE BASEMENT
THUR 23 SEP - BRISBANE - THE ZOO
FRI 24 SEP - SYDNEY - CROWBAR
SAT 25 SEP - MELBOURNE - MAX WATTS
SUN 26 SEP - HOBART - ALTAR
VIP MEET AND GREET EXPERIENCE available ONLY through www.hardlinemedia.net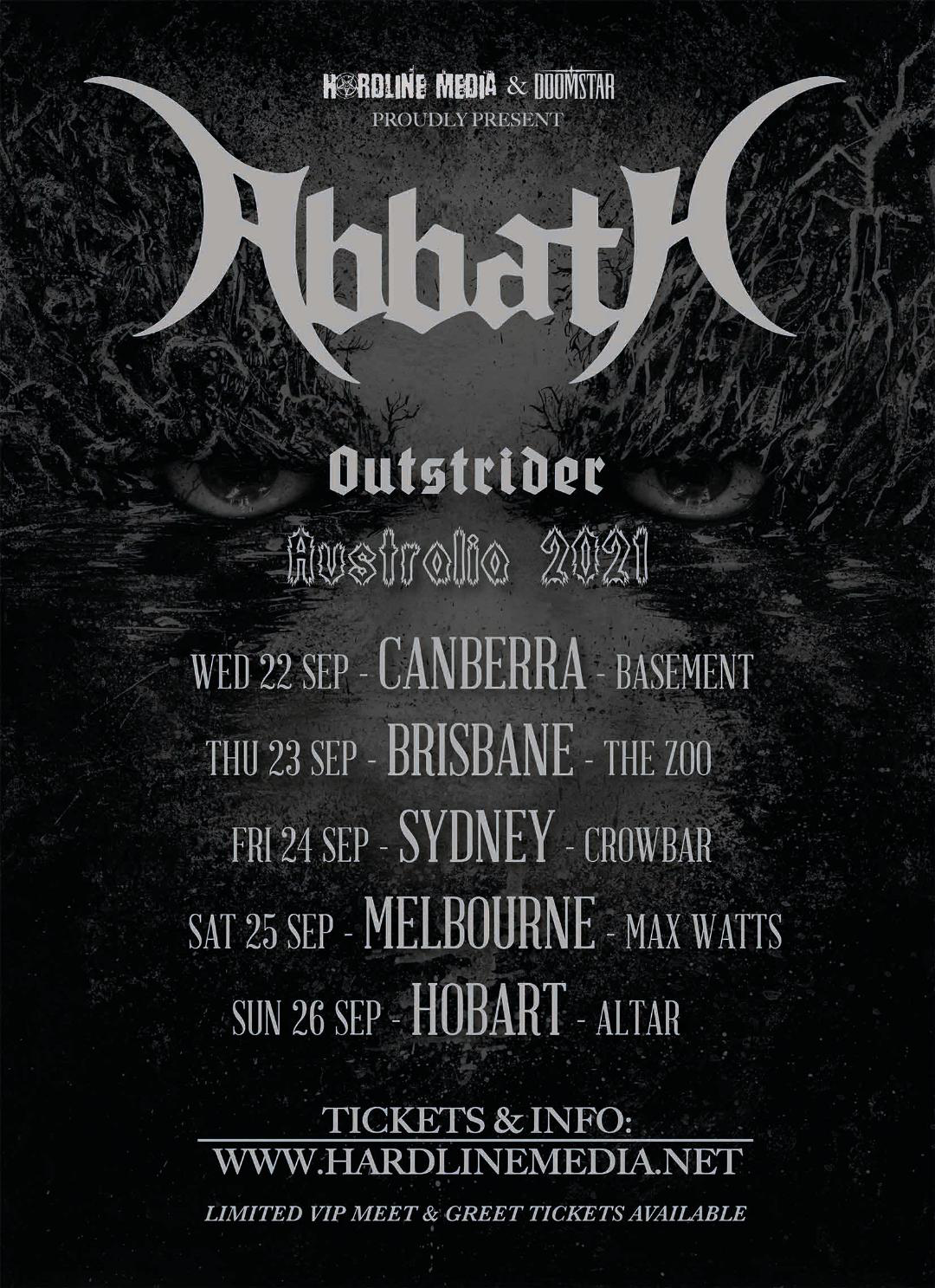 This is a Covid Safe event and there are a few things we need you to know before you arrive:
PLEASE DON'T COME if you feel sick, if you've been in contact with a person who has been diagnosed with coronavirus (Covid-19) or if you have travelled overseas or to a coronavirus hotspot in the last 14 days. Contact Oztix - we will refund your ticket.
BRING A MASK — if you are unable to socially distance, it will offer you protection.
A strict NO QR CODE, NO ENTRY policy applies at our venue. We use the Service Vic App QR code and you will have to show a Security Guard YOUR GREEN TICK at the door ​to enter the venue.
​Your TICKET WILL BE SCANNED at the Box Office and matched to the detail input at the time of purchasing your ticket. This data will be kept for 28 days to facilitate Track & Trace.
Download the App now for iPhone
Download the App now for Android
5. NO MOSHING and NO CROWD SURFING. Patrons who kick off will be removed from the venue. We're really sorry about that, but we're in a pandemic and we want to STAY OPEN.

Do your best to remain socially distanced and practice good hand hygiene. If you feel sick at the event, please report immediately to the Box Office so we can do a first aid assessment and get you home safely.