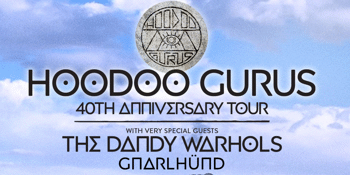 Vandemonian Presents..
Hoodoo Gurus - 40th Anniversary Tour
WITH SPECIAL GUESTS THE DANDY WARHOLS
Hobart City Hall (Hobart, TAS)
Saturday, 17 September 2022 7:00 pm
Vandemonian by arrangement with Frontier Touring are thrilled to present the return of legendary Australian rock group Hoodoo Gurus to stages across Australia this April. The announcement celebrates Hoodoo Gurus 40th Anniversary since their first live show in 1981 plus the release of their new single World Of Pain. With iconic US indie-darlings The Dandy Warhols on the bill as special guests, this is a stellar line-up you won't want to miss.

Local support by Gnarhünd.