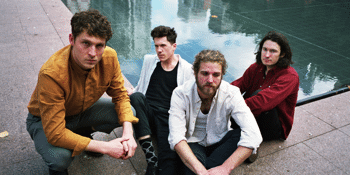 Converge Management, Collective Artists & I Oh You present
City Calm Down - Television Tour
with Sweater Curse
The Triffid (Newstead, QLD)
Friday, 18 October 2019 7:30 pm
I OH YOU is thrilled to announce that Melbourne's City Calm Down will hit the road this Spring, bringing their Television Album Tour to Sydney, Adelaide, Brisbane, Perth and Melbourne in October 2019.
Following on from a late Sept/early Oct tour of the UK and Europe, these dates will celebrate the release of the band's hotly anticipated third album, Television – released Friday 23 August via I OH YOU. Pre-order the album (including limited special white vinyl edition) here.
'An electric live proposition' – Clash
'Nobody sounds quite like City Calm Down.' – NME
'One of Australia's most adored indie groups.' – Pilerats
'One of the country's finest and most exciting bands.' – BEAT
'These Melbourne boys have not only carved their name in the Australian scene, they've f*cking cemented it.' – Tone Deaf
City Calm Down's intimate preview gigs back in May saw them perform two sold-out nights at Melbourne's Howler and a sold-out Oxford Arts Factory in Sydney, where fans got the first taste of their upcoming – and decidedly ambitious – third record. Television sees the band get out of their comfort zone and present us with something faster, simpler and tougher. This is City Calm Down like you've never heard before.
In further news today, City Calm Down also reveal the third song off their new album: 'Flight' was recorded with producer Burke Reid (Courtney Barnett, DZ Deathrays, Julia Jacklin) at The Grove Studios in NSW. Remembers singer Jack Bourke of the track:
"'Flight' taps into themes I've explored on previous City Calm Down records – social media consumption and developing an opinion in an echo chamber – but it's more scathing and cynical. The middle of this song was really difficult to execute. We were still working on it while we were in the final stages of mixing the new record and starting to feel like we weren't going to make it. But then Burke [Reid, producer] came down with a brutal bout of the flu. We all felt very bad for poor old Burke, but it did allow us an extra couple of days to finish it off."
Formed in 2008, City Calm Down are Jack Bourke (vocals), Sam Mullaly (keys), Jeremy Sonnenberg (bass), and Lee Armstrong (drums). Television is the follow-up 2018's Echoes In Blue and 2015's In A Restless House.