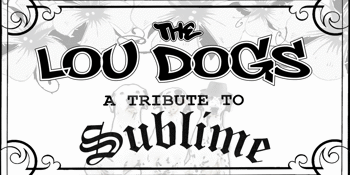 The Lou Dogs - A Tribute to Sublime
with Loud Goes Bang! and Likeside
Vinnies Dive (Southport, QLD)
Saturday, 23 November 2019 8:00 PM
Gold Coast, get ready to see a Sublime tribute band so authentically rad, the feeling of nostalgia of days gone by will make you feel like you are actually punching billies behind the basketball courts. Smashing out all your favourite bangers and B-Sides, complete with horns and a DJ, this set belongs as its own soundtrack on Tony Hawks Pro Skater.
Opening the night are super rad Dad punk band 'Loud Goes Bang'. These lads know how to party hard, so bring a notepad to take notes, because compared to these legends, you're a sook.
Local ska mad dogs 'Likeside' join the crew to inject dance juice into your skulls, so dust off your chucks, but be prepared to throw them out after you burn a hole in the bottom from skankin'.
This is gonna be a ripper, so join us as we pay homage to easily THE most influential band of the 90's, the legendary Sublime.