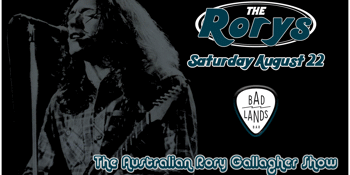 The Rorys
with special guests
Saturday, 22 August 2020 8:00 pm
The Rorys bring all the excitement and passion of Rory Gallagher to Badlands Bar on Sat Aug 22. A high energy show that will not disappoint. This year is the 25th anniversary of the untimely death of one of Ireland's favourite sons.

An institution in Ireland, Rory was rated as No 57 in Rolling Stones Greatest Guitarists of All Time.

Many of rock's greatest guitar players list Rory as one of their major influences. His contribution to the blues world is unquestionable.