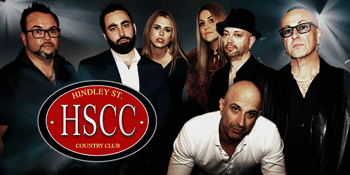 Hindley Street Country Club
Kings Beach Tavern (Caloundra, QLD)
Sunday, 14 November 2021 3:00 pm
Internet-busting Australian music group Hindley Street Country Club has proven themselves a musical force to be reckoned with. HSCC's dynamic 12-piece ensemble re-imagines the greatest hits from the 70s, 80s, and 90s, taking on Chaka Khan, Fleetwood Mac, Whitney Houston, The Doobie Brothers, Michael Jackson, Boston, Pointer Sisters and more.

Hailed as the Greatest Cover Band in the World by experts and fans alike, HSCC's weekly musical showcases deliver the very best talent of world-class musicians and vocalists based in Adelaide, South Australia, producing unique interpretations of iconic anthems and heart-wrenching ballads - recorded live from start to finish. A dynamic performance that must be experienced to be understood.

As Australia's live music scene begins to dust off the ash and rise from the rubble in a post-pandemic comeback, HSCC have hit the ground running, amassing over 140 million plus YouTube views in just shy of 3 years.

With over 140 MILLION YouTube views and 400,000 subscribers from around the globe, it's time for this juggernaut of show-stopping musicians to hit the road for the very first time in Australia, with a national tour starting in Spring of 2021!