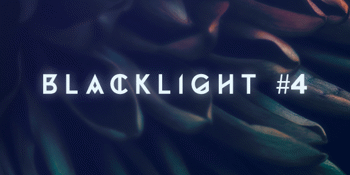 Electric Moon + The Junk Bar present
BLACKLIGHT #4
With Tim Steward, Sarah Haigh & Shelle Evans
The Junk Bar's Skukum Lounge (Ashgrove, QLD)
Saturday, 24 August 2019 7:00 PM
Electric Moon's investigative performance series BLACKLIGHT returns to turn the tables on the music of Depeche Mode, Fiona Apple and Moloko.

BLACKLIGHT #4 will feature:

Tim Steward (Screamfeeder/We All Want To) + Guests > Depeche Mode
Sarah Haigh + Guests > Moloko
Shelle Evans > Fiona Apple
ABOUT THE ARTISTS

TIM STEWARD is a stalwart of the Brisbane music scene. He is most well known as the singer, guitarist and songwriter in the bands Screamfeeder and We All Want To. He released his solo album 'How Does It End' in 2006 and has also been involved with the bands Psycho Skate Smurfs on Smack, Lethal Injections, The Madmen and The Whats. He played a pivotal role in promoting numerous Brisbane indie artists in the 90s through his record label Stone Groove. Tim was also a guest vocalist in Electric Moon's 'Ziggy Stardust' shows from 2003, 2004 and 2016.
SARAH HAIGH's solo work brings together dark indie-pop, acoustic folk and country noir, like a Tarantino soundtrack - stylish, catchy and moody. Her gritty indie-rock and live performances create a raw, expressive atmosphere worthy of comparisons to the Yeah Yeah Yeah's Karen O and PJ Harvey. Sarah currently finds herself obsessed with whiskey, death and smoking in the afterlife.

SHELLE EVANS performs both as a soloist and in band formation. In either setting her energy and intensity radiates from the stage with her stripped raw lyrics and haunting yet powerful vocals. Her debut EP was in an alt-country style that led her to be awarded 'Rising Star' of the Independent Country Music Awards. Following this, she made a left turn to indie rock with the album 'The Horse Darkly'. As layered and ethereal as it was punchy rock, the project revealed a pop-punk front-woman reminiscent of Juliette Lewis-meets-Fiona Apple. In 2018, she performed with Powderfinger's Darren Middleton and was also a featured vocalist on Sean Sennett's celebrated 'I Left My Heart In Highgate Hill' project. She is currently working on her next release 'Made Me Wolf', due for release in 2020.