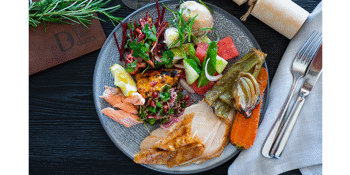 Three Blue Ducks Brisbane
Celebrate Christmas at Three Blue Ducks Brisbane
W Brisbane (Brisbane, QLD)
Tuesday, 25 December 2018 12:00 pm
Tuck into a Christmas Day Feast at Three Blue Ducks Brisbane

Treat yourself and celebrate Christmas Day with family and friends over an indulgent lunch at Three Blue Ducks Brisbane. Enjoy fresh local seafood, crisp salads, mains with all the delicious trimings and decadent desserts plus a three hour beverage package.

Tuesday 25 December, 12pm - 3pm

COLD SEAFOOD BUFFET
Oysters & red wine mignonette (gf, df)
Prawns, cocktail sauce, shaved iceberg (gf, df)
Smoked mussels & pickled onions (gf, df)
Moreton Bay bugs, fermented chilli sauce (gf, df)
Smoked salmon, beetroot relish, crème fraîche, red onion, capers & dill (gf)
Spanner crab blinis, beetroot relish, caviar, dill & chervil (gf, df)

SALAD BUFFET
Kohlrabi, apple, watercress & mustard (gf, df, v, vg)
Farm salad, almond cream (v, n)
Beetroot, apple, fennel & buckwheat (gf, df, v, vg)
Potato salad, jalapeños (gf, v)
Citrus, watercress, herbs, almonds & nam jim (gf, df, v, n)
Watermelon, cucumber & radish (gf, df, v, vg)
Shaved zucchini, lemon, mint & roasted chestnuts (v, n)

SHARE TABLE MAINS
Salt baked rainbow trout, chicken stock potatoes & crème fraîche (gf)
Slow cooked lamb shoulder, pea, zucchini, squash, red onion, mint & lemon dressing (gf, df)
Roast turkey, all the trimmings, red currant jam & jus (gf)
Miso glazed pumpkin, whipped tofu, radish apple & spent lettuce (gf)

DESSERT BUFFET
Portuguese tarts (v)
Tiramisu (v)
Rosemary & lemon marshmallows, sour lemon (gf, df, v)
Cinnamon doughnuts (n)
Pavlova, mango & passion fruit (gf, v)
Coconut rice pudding, burnt honey, mango & passion fruit (gf, df, v, vg)
Creme brûlée (gf, v)

gf: gluten free
df: dairy free
v: vegetarian
vg: vegan
n: contains nuts

Please advise of dietary requirements at least 7 days prior to your booking.
Numbers are finalised on booking.
No refunds.