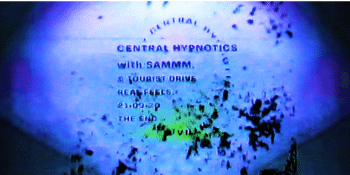 Real Feels.
Central Hypnotics with Sammm. & Tourist Drive | Real Feels
Monday, 21 September 2020 7:00 PM
An audio-visual performance of heightened sensations. Curated live and mixed on the fly. Soundwaves articulated into a visual experience.
This event is seated with limited tickets available.
-
Central Hypnotics are an audio visual duo consisting of Jasper Free and Respect Guy (Matt Treffene).Featuring performances from Sammm. and Tourist Drive.
-
Monday the 21st of September
The End Bar West End

-
$20+BF