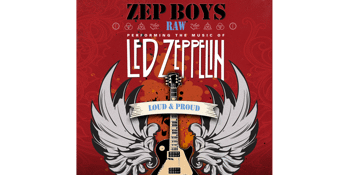 ZEP BOYS - "Raw" - performing the music of Led Zeppelin
Prince Bandroom (St Kilda, VIC)
Friday, 8 October 2021 7:30 PM
Zep Boys are coming to unleash pure Led Zeppelin rock 'n' roll!

Zep Boys have accumulated a strong following that only the best of artists can achieve! Zep Boys made their mark in the mid 80s as the greatest Led Zeppelin showin the world... and they are only getter better!

In a show not to be missed, Zep Boys are taking to the road in 2021 to unleash the very essence of Led Zeppelin: rock 'n' roll!

For one night, experience the intricacies of the musicof Led Zeppelin that has spanned 50 years and generations in one of the best shows you will ever hear or see!This is a high energy show and we encourage you to sing as loud as you can –we want to hear you!What does the fans have to say?
"26 years between gigs and you guys only got better. It was an awesome night. Absolutely nailed it".–Emma
"It was bloody brilliant...great line up and full on energy for over two hours!"-Michael
"I you have a whole lotta love for Led Zeppelin, this is one show you can't miss!"

In the event of a COVID impacted metro or state lockdown, dates will be re-scheduled.