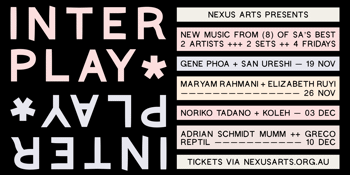 Nexus Arts
Interplay: Noriko Tadano // Koleh
Nexus Arts Venue (Adelaide, SA)
Friday, 3 December 2021 7:00 PM
**Please note all patrons 12 years and over must show proof of COVID-19 double vaccination status on entry to Nexus Arts Venue. All audience members will be required to check-in upon entry; wear masks and practice physical distancing in accordance with Government directives.
We're sorry but refunds are unable to be provided for ticket holders unable to prove vaccination status.
If you wish to bring a 12 to 15 year-old who is partially vaccinated to a Nexus Arts Venue event before the end of 2021, please contact us. From 1 January 2022, 12 to 15 year-olds will be subject to the same requirements as those aged 16+.
Nexus Arts presents the Interplay Performance Series, which is the culmination of a year-long artistic development program for culturally and linguistically diverse contemporary musicians. This year, Nexus has worked closely with 8 incredible musicians and bands, building their artistic practice and creative networks here in Adelaide. Throughout this four-part concert series, you will be treated to a diverse range of musical genres, from Japanese traditional music to Colombian funk; from pop to the Iranian santur. Each artist will present a 45-minute set of original music, with two artists each night, giving you a musical expereince like no other. Welcome to Interplay!
Interplay: Noriko Tadano // Koleh
Friday 3 December
Doors at 7pm, music at 7.30pm
Nexus Arts Venue, Cnr Morphett St and North Tce
Enter from North Tce next to the Lion Arts Factory Building
Noriko Tadano
is an award-winning, virtuoso master of the Japanese shamisen (a 3-string, banjo-like instrument) and a traditional Japanese vocalist. Playing shamisen since the age of 6, she performs both as a soloist as well as in collaborations, playing shows all over the world at festivals including WOMADelaide. As an artist, Noriko believes in breaking down national and genre boundaries, and she is currently exploring several collaborations with artists of diverse cultural and artistic backgrounds. Her music for this performance
centres on themes of love, family and a close connection with nature.
Adelaide based artist Koleh uses his music's unique and refreshing blend of South-East Asian instruments, samples and contemporary Indie-pop to transport listeners to Borneo rainforests and village long-houses. Embracing his heritage, the Kenyah Dayaks of Borneo, Koleh aims to carry on and share his tradition by playing the Sampe', which is a traditional Dayak lute/guitar-like instrument. Expect an Indie-pop sensibility fused with something fresh, new, and totally unique.