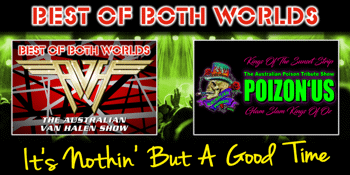 Code One
CANCELLED - BEST OF BOTH WORLDS: Australian Van Halen Show & POIZON'US "Australian Poison Tribute Show" - LATE SHOW
Manly Leagues Club (Brookvale, NSW)
Saturday, 29 May 2021 9:00 pm
DOORS: 9.00pm
STAGE TIMES: Best of Both Worlds: The Van Halen Show (10.40pm – 11.30pm) PoizonUs (9.30pm – 10.20pm)
THE ULTIMATE 80'S HARD ROCK DOUBLE HEADER
starring - *Direct from Sydney*
BEST OF BOTH WORLDS Australian Van Halen Show AND
POIZON'US "Australian Poison Tribute Show"
POIZON'US, The Australian Poison Tribute Show & THE BEST OF BOTH WORLDS, The Australian Van Halen Show are heading your way for one glam slamming weekend.
BEST OF BOTH WORLDS - The Australian Van Halen Show, are a unique Van Halen Tribute Show delivering songs from both the David Lee Roth & Sammy Hagar eras of Van Halen thats include the Big Hits "Jump" - "Panama" - "Why Can't This Be Love" – "Dreams" – "Hot For Teacher" and many more.. plus all the crazy guitar licks the late great Eddie Van Halen became famous for.
Poizon'Us are Australia's Only true Poison Tribute Show having also appeared on Foxtels's The Tribute Show, lays claim to the absolute authenticity of this show.
Poizon'Us who tour nationally are accurately represented in this show by Australia's very own Aussie Bret Michaels (who has to be seen and heard to be believed) you will simply not believe your ears and eyes, he is the worlds Number One Bret Michaels impersonator.
Poizon'Us will take you back to when Poison were the undisputed Glam Slam Kings of the famous West Hollywood Sunset Strip, performing Poison's biggest hits including "Every Rose Has Its Thorn" - "Nothin But A Goodtime" - "Unskinny Bop" - "Talk Dirty To Me" - "Your Mamma Dont Dance" and many, many more!
So get ready to "Jump" and "Dance The Night Away" with your friends as we bring you one HIGH OCTANE Double Header Tribute Show - We are certain you wont leave without having "Nothing But A Damn Goodtime"