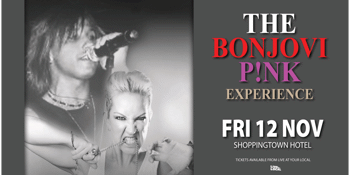 Live at Your Local
Bon Jovi - Pink Experience
Shoppingtown Hotel (Doncaster, VIC)
Friday, 25 February 2022 8:00 PM
Two sensational acts; one huge night of entertainment. See Mel Van Dyk as Pink & Ange Sebastian as Jon Bonjovi with a professional line up of well respected pro musicians to replicate the sound of these two huge well known artists.
LIVIN P!NK delivers entertainment with a full lighting, huge sound production, and costumes to replicate Pink herself. Rock out to an event filled with countless hits. Most of the shows hit song list are taken from Pinks Funhouse and Im Not Dead Tour. LIVIN P!NK stars , Mel Van Dyk as Pink, with hand made costumes that have an amazing resemblance to the artist herself. Watch, listen and be entertained with the authenticity of this show.
'Slippery and Wet' is the ULTIMATE Bonjovi Experience starring, Ange Sebastian as Bonjovi delivering an authentic Tribute Show that exemplifies the passion and sound of Bonjovi. Take a trip back down memory lane and be entertained by this incredible Live Rock Show! Re-experience Classic Hits like, "Wanted Dead of Alive", "Living On a Prayer", "Have a Nice Day" and "It's My Life"; along with a huge sound and lighting production, audiences will not be disappointed. We give 100% effort and ensure that punters are comfortably convinced that they have heard the closest thing to Bonjovi.