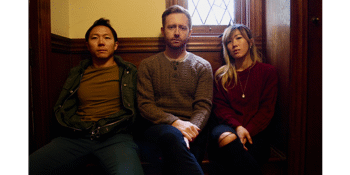 Marcus Arch
with Xirita, ORCHA
The Workers Club (Fitzroy, VIC)
Wednesday, 19 May 2021 7:00 pm
FACEBOOK EVENT
Still giddy with the release of their newest single "What's Become of me" with Two Keys Records, Marcus Arch arrives with their first headline show.
Marcus Arch is made up of Abrahm Gunn, Clarabell Liu and Welldy Limonta. Hailing from 3 different countries the triplet fused a unique blend of indie rock, folk and synth-pop into their eclectic song-writing. Last year, Marcus Arch released 10 songs, with one song "Enough" produced by Jānis Eglītis all the way in Latvia, another track, "Giants" caught the attention of Two Keys records. 2021 started with the release of "What's become of me" in April, and will be followed by a remix of "Carnivore" by William Crowe, from the UK. An EP will follow these releases. It's another exciting year ahead for us and we'd love to have your support down at The Worker's Club.
We're joined by some amazing support acts and are really excited to announce ORCHA and Xirita in the line up. ORCHA takes the class and beauty of his violin playing and blends it with heavy synth layers, beats and ethereal vocals. ORCHA puts you in a dream like state and his debut 2020 Album "Reflections" has been on our repeat list. Xirita's vocals have earned her praise from Triple J, Beat Magazine and Acid Stag. Stylish vocals, incredibly catchy electro-pop tunes and a hyper-energetic live performance - you'll find it hard not to fall in love with Xirita. We did when we first saw her perform in 2020.
We hope you can make it to The Worker's Club Fiztroy on the 19th of May.