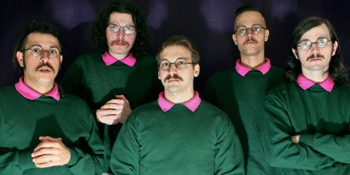 Troubadour Music Presents
Okilly Dokilly (USA)
With Special Guests Dr. Colossus
Crowbar Sydney (Leichhardt, NSW)
Friday, 14 February 2020 8:00 PM
The world's only Nedal band is coming to Australia in February!
OKILLY DOKILLY have announced 'Australia 2020' which will make its way down the East Coast starting in Brisbane and finishing in Melbourne.
The band will be supported nationally by Melbourne's own Simpson's themed Doom Rock band DR. COLOSSUS.
Established in 2015, Phoenix, Arizona based "Nedal" band Okilly Dokilly found success before even playing their first show, reaching viral phenomenon status after releasing just a few press photos and a four-song demo.
The band released their second full-length album, entitled Howdilly Twodilly, on March 29, 2019. Just over a week later, Okilly Dokilly reached pinnacle Ned status when their "White Wine Spritzer" video, which has over 5.4 million views on YouTube, was featured on The Simpsons.

"The Phoenix, USA based metalcore band gave everybody's noggin a with an impressive set. The big crowd were in a tizzy and seemed to love every darn, doodly minute." – Evening News 24
"Okilly Dokilly Want to Pulverize Your Skull With Sound, Neighborino" – Phoenix New Times
"Simpsons-Themed Okilly Dokilly Turns Trunk Space Into a Metal Springfield" – Phoenix New Times