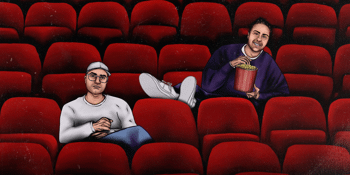 Sowdy & Macks Martin's 'Picture Show' LIVE ft. Friends
with special guests BoyBoy, Jewel Owusu, 506, Doss & Nino Pa' Piu and YNGRACH.
Saturday, 11 December 2021 8:00 pm
Following the success of last year's vibrant genre-bending album, "Shine!", Perth hip-hop artist, Sowdy, is back. This time around he has linked with in-house DJ and producing prodigy, Macks Martin, for a high concept 14-track cinematic odyssey, centred around the artists unfathomable love for hip-hop culture, cinema and the art of storytelling
Sowdy, the self-taught engineer, producer and artist who has an ever-growing catalogue of musical projects has joined forces with Macks Martin for what is one of the most anticipated projects to come out of Australia. The up-and-coming producer, Macks Martin, who released his debut EP "Star of the Midnight Range" last year, lends his meticulous sampling techniques to the project, bringing his eclectic style of theatrical flair mixed with Sowdy's signature soul tinged take on modern hip-hop.
"The project came together very organically. I had reached out to Martin to help produce a couple of songs for a project I was starting to work on at the time. Once we started working, we couldn't stop and began to understand the chemistry we had when working together. I proposed the idea of a full-length project and then things went into motion quick. Martin would send me a sample, id tinker with it, add some drums and we'd go back and forth like that. We wanted the project to feel nostalgic and cinematic, whilst having a modern flair" - Sowdy
With the two Perth artists recent work having comparisons made to Kanye West, Kendrick Lamar and Freddie Gibbs' collaborations with Madlib and The Alchemist, "Picture Show" shows the mature evolution of two of the Australian music scenes most exciting and talented artists.
This eclectic collection of songs presents a craftsmanship and timelessness that few artists possess. Sowdy floats with his poetic lyrics and unruly energy over his and Macks Martin's rich soulful sonic soundscapes for 45 minutes of cutting-edge music. Picture Show is a celebration of the culture that raised these two creatives, an homage to the art of hip-hop, as they etch their name into rap's history book.