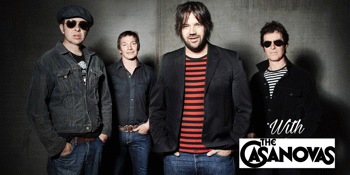 Moe Hotel
Dallas Crane with the Casanova's
The Casanovas
Saturday, 9 October 2021 8:00 pm
Moe Hotel presents a huge night of rock with two of the most exciting rock artists touring Australia today. Dallas Crane and the Casanova's.
Dallas Crane.
Dallas Crane have become a not only a lauded constituent of the Australian rock 'n roll scene, but a trend-proof mainstay that continues to exhilarate audiences wherever they bloody well set foot!
Some referred to them as, 'Australia's hardest working band', playing their guts out to anyone who'd listen, in which most cases was a packed out pub anywhere around Australia. They gave everything every time you saw them; no microphone left un-scolded, no denim jacket left un-soaked and no audience left anything other than completely satisfied with what they had just witnessed for the last hour and a bit. Even You Am I's Tim Rogers had them down as his favorite band, immortalising them in their song Who Put The Devil In You?
After some more-than-healthy Triple J support in the early part of the millennium, the band were chased down by legendary Australian label Albert Productions (AC/DC, The Easybeats,) to come and add to their already killer legacy by laying down some choice cuts over two albums; one of the label's first rock signings in many years.
Their first offering Dallas Crane / Dallas Cranewas so well received, it even had Australian Idol's Mark Holden begrudgingly asking the question, 'who the hell are these guys, and how are they getting triple ARIA Award nominations?'
A little time away from the scene after theirAustralian tour with The Who in 2009 meant not a lot of activity for Dallas Crane over the last couple of years, but if their brand new long player Scoundrels is anything to go by, the Crane faithful can rest easy knowing that none of that original pent-up verve and vigor went missing in their brief sabbatical.
Recorded throughout 2014-2015 at Melbourne's Hothouse Audio with Craig Harnath and engineering whiz-kid Jez Giddings, Scoundrelsrounds up some of the band's finest works to date with songs like The Sunnyside and Disillusioned proving just how gloriously majestictwo guitars can be in front of a driving rhythm section.
The revitalised songwriting effort has yielded ten time-hardy gems on an extremely solid return-to-form release from the band. Dave Larkin's Come To Light and The Good Times demonstrates the band is far from done with it's penchant for thesplendid epic, whilst guitarist/singer Pete Satchell adds his own gentler touch on the compelling and beautiful Lucky Me.
'Scoundrels' showcases a new level of sophistication in the band's songwriting, not slowing in vitality or intrigue until the very last note.
the Casanova's
The Casanovas formed in 1999 and got caught up in the early 21st-century rock mania, sharing a bill with a barely-known White Stripes early on before touring Europe with the Datsuns. Then came SXSW, Triple J rotation, The Big Day Out, and shows/tours with Motörhead, Mötley Crüe, The Darkness, The Living End, The Black Crowes, Redd Kross and Airbourne and others. They always had deeper roots though; they were as much the Powder Monkeys as AC/DC, and very much a merging of two great local traditions – hard rocking punk and larrikin Oz rock – so they naturally stuck to their guns when rock was no longer in fashion. These days it's like the early days at the Tote all over, and with new drummer Brett Wolfenden on board (Wolfie is a longtime sideman of You Am I's Davey Lane and has played with Jim Keays and Todd Rundgren), joining frontman/guitarist Tommy Boyce and longtime bass player Damo Campbell, they are finding an even greater joy in playing.
Released in August 2020, "Reptilian Overlord" was the Casanovas' first album in five years and arguably the best-reviewed album of their 20 year career. Produced by iconic Oz Rock engineer/producer Mark Optiz (AC/DC, Angels, Chisel, Divinyls etc), and featuring singles including "Hollywood Riot" (which was appropriately picked up by legendary LA DJ Rodney Bingenheimer) and "Lost and Lonely Dreams", the album was described by Melbourne's own preeminent rock booster James Young (owner of the world famous Cherry Bar) thusly: "It's like they've captured all my favourite rock acts - Cheap Trick, Stones, Kiss, ZZ Top & AC/DC, and crammed them all into their own jar of Vegemite." Indeed it captured the band's soulful rock'n'roll groove like never before and drew attention from around the world:

"'Reptilian Overlord' is a straight-up feel good record. The Casanovas are at their best when they're just joyously rocking out, and 'Reptilian Overlord' is filled to the brim: "Cold Day in Hell", "Stand Back" and the supremely rocking "Red Hot" are simply parties looking for a place to happen, and that place should be the cars and living rooms of anyone who needs to something kick-ass right now." 8/10 - Loud
"Summing up: wonderful songs, wonderful songwriters, wonderful band. Hopefully when the world gets back to its normal self we can go watch them rock the fuck out. The Casanovas will be a priority for me and I want to hear these songs live." – 5/5, I-94 Bar
"With 'Reptilian Overload', The Casanovas sign off on their best album, a concentrate of hard rock with a sublime heavy touch! The Australian tradition continues!" 5/5 - United Rock Nations, France
"You can compare The Casanovas with bands like AC/DC, Rose Tatto, Airbourne, a little bit of Kiss or the Stones. Asskicking Hard Rock with a light Glam / Sleaze note - sometimes hot and sometimes bluesy." 8/10 -
Rock Garage, Germany
"This collection might just be their best too, given it's got the most rock n roll feel of a career that has been steeped in it, and also a set of songs that by and large meet the vision." - Maximum Volume Music – UK, 8.5/10