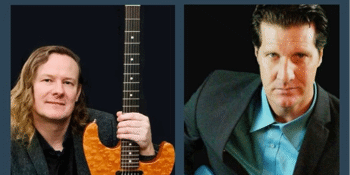 Code One presents..
Blues Power - Darren Jack & Simon Kinny-Lewis - Late Show
Brass Monkey (Cronulla, NSW)
Saturday, 19 February 2022 8:30 PM
Bluespower - Two of Australia's premier Blues artists team up for a night of BLUES POWER!
Darren Jack
- Multiple award-winning blues artist Darren Jack has been electrifying audiences with his signature powerhouse Rock'n'Blues and original music for the last 20 years. Jack has taken out 6 Australian Blues Music Awards and has won the Sydney Blues Challenge an unprecedented two times, in 2012 (Band category) and in 2014 (Solo category). He has represented Australia in the International Blues Challenge in Memphis, Tennessee in 2013 and 2015.
Darren Jack has played alongside some his most important artistic influences, opening for and sharing the stage with artists such as: Robert Cray (USA), Jimmie Vaughan (USA), Canned Heat (USA), Ford Blues Band (USA), George Thorogood (USA), Chris Cain (USA), Andy Just (USA), Long John Baldry (UK), Kevin Borich, Ian Moss, Jeff Lang, Phil Emmanuel, Dave Hole, and Chain.
His music will take you from blistering, gut wrenching blues to smooth melodies that will soothe your soul.
Simon Kinny-Lewis
- SKL is the full package. His guitar playing is up there with the best guitarists of today " - BluesRockReview 2019
He has performed/ recorded with the cream of the crop of Blues, Chris Cain, Nate Ginsberg ( Herbie Hancock ), Christian Howes ( Robben Ford ), Simeon Cain ( Henry Rollins Band ) and many more.
He has produced 7 albums to date with his previous solo album "Catfish" and band album " A Day In San Jose " both reaching # 1 on The Australian Blues and Roots Airplay Charts and was recognized at the official Australian Blues Music Chain' Awards 2019 as " Best New Blues Artist "