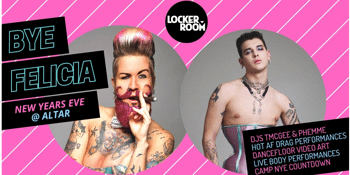 Bye Felicia | NYE Party
DJ TOM McGee + Pussay Poppins + Rosa Rita
Friday, 31 December 2021 9:00 pm
Hobart farewells 2021 with the middle finger and welcomes in 2022 with BYE FELEICA—a queertastic partay fit to ring in the new year.

With Altar as our playground, BYE FELICIA is gearing up to be the only way to kick this year in the ass complete with killer DJs, drag wonderment and a crowd of Hobart's finest queers and their allies.

Expect a night of kick-ass enetertainment and a vibe that just wont quit.