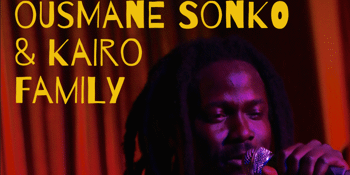 Palais-Hepburn
KAIRO Family Band: A Senegalese Hybrid Band
Palais - Hepburn (Hepburn Springs, VIC)
Saturday, 8 February 2020 7:00 PM
Doors 7pm: Dinner and show available.
Show: 8pm
Dinner and show includes a Table.
Lead by Creative Director, Senegalese master drummer Ousmane Sonko, KAIRO means peace in the Mandinka language and presents a new hybrid of Senegalese music to Australia. Percussive, melodic, soulful, dynamic and uplifting, KAIRO Family Band shares the heart of Mother Africa with Australia through the international language of music.

Incorporating the Senegalese language dialects of Wolof, Jola and Mandinka and also French and English, KAIRO Family Band delivers an exuberant and dynamic performance, which entices their audiences to dance and celebrate the joyous rhythms of African cultures. Featuring the djembe, tama (talking) and doun doun drums, keyboards, guitar and kit drum, they perform Afro Beat, Salsa, Soukous and Reggae music with distinctive Senegalese style.
KAIRO Family Band Facebook page has recent performance footage of gigs at
The Penny Black, Bar 303 & The Bar Next Door.
https://www.facebook.com/Kairo-Family-130891050272277/
https://www.facebook.com/public/Ousmane-Sonko
https://www.youtube.com/watch?v=ZAHFZEKH3sY
https://www.youtube.com/watch?v=rlWrJH-axzY
https://www.youtube.com/watch?v=LUOpGejjvpc.
https://www.facebook.com/events/1514306862127275/
https://www.facebook.com/events/1514306862127275/