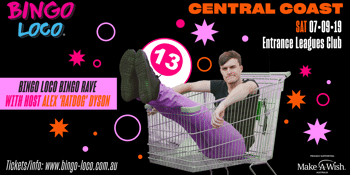 Bingo Loco with Host Alex 'Ratdog' Dyson
The Entrance Leagues Club (Bateau Bay, NSW)
Saturday, 7 September 2019 6:30 pm
Bingo Loco announces massive Australian tour with new host Alex Dyson.
Originating from Ireland, Bingo Loco has been selling out across the globe, including three Australian national tours this year. Bingo Loco takes the traditional notion of the antiquated game and spins it on its head. Think a glow stick rave with epic music, ridiculous production, dance-offs, crazy costumes, lip-sync battles, outrageous props, confetti showers, live comedy and a lot of prizes you really want and don't want to win from sacks of coal to lawnmowers to holidays to Bali.
The popularity of the event (with 98% selling out) stems from the public's desire for something different, zany and ostentatious.
"People want to dance and be stupid but they also want comedy, competitions, prizes and theatrics" says co-founder William Meara. "They want to be involved in a show and not just left on a dance floor. Bingo Loco is not a performance, it's an engaging experience with the mentality of a theatre show, while always ensuring every element is completely ridiculous. I don't know of any other event where thousands of people will be singing their hearts out to Disney anthems, falling out of their chairs with laughter, raving to Sandstorm as well as competing for awesome (and awful) prizes… all while playing Bingo".
The Bingo Loco organisers have been searching for some time to find a host in Australia that will be as loco as the event itself and Alex Dyson fits this profile. From triple j host, to podcast creator, to dancing his way into politics earlier this year; your boy Alex Dyson has certainly been busy and will now be host of Bingo Loco's Bing Rave, which will tour Australia from July till September.
In 2019, Bingo Loco is partnering with Make-A-Wish® Australia with proceeds from the event going towards helping create life-changing wishes for children with critical illnesses.
Start doing your stretches and vocal warm-ups, the biggest ever Australian Bingo Loco show is now on sale.
Terms and conditions:
Bingo Loco is an entertainment event run by Legs Eleven Australia Pty Ltd and is separate to cost of playing Bingo (Charity Housie), operated by Legs Eleven Australia Pty Ltd on behalf of Make-A-Wish® Australia. There is no obligation from attendees of the event 'Bingo Loco' to play Bingo (Charity Housie). The separate cost to play Bingo is $3.60 for a booklet of 9 tickets. Proceeds from Bingo go to Make-A-Wish® Australia.
* Charity Housie is similar to Bingo.
* Charity Housie is played with printed tickets bearing numbered squares.
* A Caller announces the numbers to the players which are selected at random from a registered Bingo / Housie machine.
* Each player marks off the numbers on their ticket as they are called.
* A player wins if they are able to mark off all the numbers on their ticket, left-to-right, first.
* The benefiting charity for this event is Make-A-Wish® Australia and will receive proceeds raised from the sale of the Housie books.
* Bingo Loco's Charity Housie prizes are calculated on the basis of sales and limited to a maximum of 75% of the gross proceeds of the Housie tickets ($0.40c per ticket / $3.60 per booklet).
* The maximum combined total value of jackpot prizes awarded in a major Housie session will not exceed $2,000.
* During a session any conditions can be viewed at the sales desk.
* A participant who has won a prize will call out 'Bingo Loco' and hold their booklet in the air. These instructions are laid out clearly by the host at the start of the game.
* Each ticket claimed to be a winner is inspected by the host and / or the assistant of the host.
* Spotters will be placed within the audience to ensure each winner is identified quickly.
* If Bingo is called on a winning number by more than one participant or, from a number called prior to the last number called and someone else goes out on the last number called, the prize will be shared equally and an optional test of skill will be run for a bonus prize.
* A number is not fully called until the number has been repeated, if a number is called by mistake and repeated, that number will then be classed as called.
* If a number is lit up on the board and is missed by the Caller, that number will only be accepted as a valid number if it is called and repeated by the Caller before the end of that game and providing the Bingo machine is not faulty.
* Legs Eleven reserves the right to alter progressive jackpots at any time.
* Any disruptions during Housie are not acceptable and the person or persons involved may be asked to leave.
* The Session Supervisor / event manager will have the final say on any disputes arising during a session and disputes will be dealt with in a separate room.
* The following is prohibited from participating in the Charity Housie: Family members of the benefiting charity representatives, Legs Eleven Australia Pty Ltd or employees of Legs Eleven Australia Pty Ltd; spotters; callers; event staff; charity representatives.
Think About Your Choices. Call Gambling Help - 1800 858 858
www.gamblinghelp.nsw.gov.au