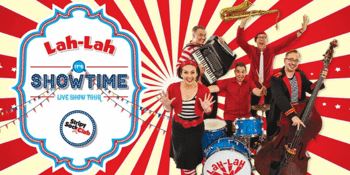 LAH-LAH Productions presents
POSTPONED - LAH-LAH - IT'S SHOWTIME
Max Watt's Sydney (Moore Park, NSW)
Sunday, 19 July 2020 10:00 AM
It's Showtime and Lah-Lah's Big Live Band has been busy at work making a brand new album of songs designed by you! They have collected exciting, weird and wonderful musical instruments, with new dances and songs that grown-ups will love as much as kids. It's Showtime is going to delight all and promises to be the best family show in town. And, don't forget that every ticket includes a meet and greet with the band after the show.
Meet Lah-Lah and the band, touch and try the real musical instruments, have your photo taken with the stars, and collect their autographs - it's all included in your ticket.
Lah-Lah - made with music.