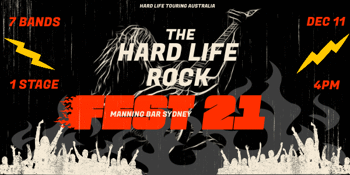 HARD LIFE TOURING AUSTRALIA
HARD LIFE ROCK FEST 21
Manning Bar (University of Sydney, NSW)
Saturday, 11 December 2021 4:00 pm
Hard Life Touring Australia Presents a new breed of Rock Festival in 2021. With a mission to revive Good old Rock Music in Australia, we are combining a selection of Australia's best tributes to some of the worlds biggest Rock bands with Some of Australia's Next Rock Stars. LIVE LOUD AND LOCAL bands from around the country show casing just what this great country has to offer, the next generation and the future of rock and roll in Australia.
This year brings the first of many to come, with THUNDERSTRUCK Australia's number one tribute to Australia's biggest rock Band AC/DC headlining, before that we see CROSSON, Sydney's craziest 80's style hair metal band with a show that will blow your mind. On before them Rampaging out of Newcastle is KISStory, with an almighty tribute to Rock Gods KISS, costumes and all. Up and comers from Melbourne Cicadastone bring their original New wave of Classic Rock style to show you that Rock definitely aint dead. Sydney's ACES HIGH bring an epic tribute to British Metal Royalty Iron Maiden playing all the best bits, a show worth its weight and on before them are New Rockers from Albury NSW Tribehounds, with a sound resembling that of Jet mixed with AC/DC these boys are always up for a Rockin good time. And last but not least, don't be fooled, they might be on the bill first but these boys bring one of the hardest hitting tributes to one of the worlds biggest metal bands Metallica – TRIBUTE FOR ALL will blow you off the park from note 1 to the very last.
This is a festival that will have you rocking from band one all the way to the very end LIVE LOUD AND LOCAL!