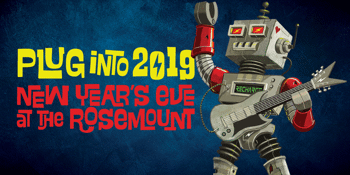 Rosemount Hotel presents
PLUG INTO 2019 | New Year's Eve at Rosemount Hotel feat. Southern River Band & Abbe May
Featuring The Southern River Band, Abbe May, The Tommyhawks, Rockin' Hendy & more
Rosemount Hotel (North Perth, WA)
Monday, 31 December 2018 6:00 pm
PLUG INTO 2019
at Rosemount Hotel to recharge, update, download, upload and rock out. There's a blues artist electricity in this here town and it's sustainability and renewable nature are best enjoyed live with a drink in hand.
Those larrikins and rock style-meisters
THE SOUTHERN RIVER BAND
are gonna zap you all over - but that's just a little taste - Be electrified with
ABBE MAY
, amplified with
MOONLIGHTER
, testify with
TOMMYHAWKS
, ruminate with
WEB RUMORS
and get buzzed with
BALD BEAGLE
- All of whom make up this year's Rosemount Hotel New Years Eve 'Access All Areas' Main Room entertainment offering.
The Backyard and Four5Nine will also be glowing like a neon sign all night long. In the Four5Nine band room, PLUG INTO 2019 will be powered by Australia's one and only
ROCKIN' HENDY
, Don the Rat from the Homicides' new band
SICK POSE
,
THE PAIGE MCNAUGHT EXPERIENCE
,
WEREWOLF
and
THE BONEKICKERS
.
The Backyard presents a special late-night performance from
RUSTY PINTO AND THE BLUE FLAMES
, these performers are highly charged and will literally be bringing their very own amps and valves. But that's not all - be swooned by sparking selections courtesy of
DJS HOLLY DOLL
,
NICK SHEPPARD
and
AOIFE DALY
, who have allegedly coined the term selectricity, oh and there could be a few carny surprises that pop up.
A 'AAA' ticket pass will provide all 'AAA' ticket holders access to all three of these high voltage zones. These tickets are only $30 + bf. A backyard ticket sees the backyard ticket holders with access to the Four5Nine band room and the backyard, for a low price of $13.40+bf.
The drinks on offer are designed to keep your turbines spinning and the food will fuel you good and proper. PLUG INTO 2019. Tickets available now through
rosemounthotel.com.au
.