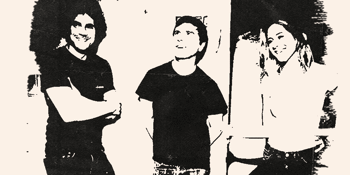 Frontier & I OH YOU present
Bully
with special guests Bleeding Knees Club
Lansdowne Hotel (Chippendale, NSW)
Thursday, 19 July 2018 8:00 PM
Bully last stormed Australia at 2015 with a string of east coast sideshows, and now Frontier Touring and I OH YOU are thrilled to confirm that the Nashville quartet will bring their joyous pop-punk back to Sydney and Melbourne this July while in town to play Splendour In The Grass festival.
The band's debut single, 2014's 'Milkman' captured the ears of Columbia Records label, Startime International, kick-starting the global recognition they would receive with first album Feels Like (2015). The release peaked at #1 on Billboard's Heatseekers Albums chart, featuring weighty tunes 'Trying' and 'Too Tough', and garnered critical acclaim, with Pitchfork raving that 'The coarse Cobain head-scream of Bully singer, songwriter, and guitarist Alicia Bognanno is its own resuscitating jolt of protest'.
That momentum saw the four-piece return to the place Bognanno started her musical journey, recording follow-up album Losing (Sub Pop Records) at Chicago's Electrical Audio Studio, where the singer used to intern. Released last year, it's a visceral journey from start to finish; 'Feel the Same' pulses with the feeling of claustrophobia in a manic space of mind, while 'Seeing It' radiates the heightened anxiety and vigilance felt as a woman.
Amidst consistent and razor-sharp songwriting, Bully's stature as a band-to-watch has particularly grown taller on the live stage. 2015 was a breakthrough year for the band, playing Lollapalooza, followed by an extensive US run and their Australian debut for three blistering shows in Melbourne, Sydney and Brisbane.
'Bully's approach is more taut, cut through with a little garage-rock crispness. Others have mined this territory well of late — take some of the work of Speedy Ortiz or Dum Dum Girls, or Yuck's 2011 debut album — but Bully has in Ms. Bognanno a special weapon. She's a bracing songwriter, full of quick jabs and mundane details that end up being full of import. As a singer, she's evocative.' – NY Times
'They walk onto the stage at Howler, so unassuming that, were it not for the deep blue lights thrown across them they may have gone unnoticed. Such is the unaffected charm of Bully which is perhaps why, from the instant they launch into the first song of the set, they connect. Like a damn fist.' – Howl and Echoes
It's been nearly three years since then, and Bully are sorely missed. As The Sydney Morning Herald aptly put it, the group are keeping the dream of the '90s alive and kicking alongside the likes of Pavement and Veruca Salt. You won't want to miss out on their unique electricity, lighting up any venue whenever these guys rip on stage!