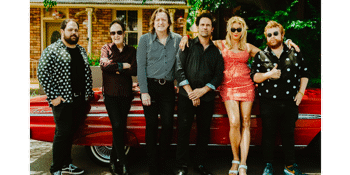 A Great Night Out with The Soul Movers!
The Great Club (Marrickville, NSW)
Saturday, 12 February 2022 6:30 pm
Looking for a GREAT night out?
Then look no further! - The Soul Movers are SUPER excited about playing the very fabulous, Great Club in Marrickville.
Take a ride through the grooviest sounds of the 1960s and 70's with much-loved local legend (and ex-Red Wiggle) Murray Cook with partner-in-crime Lizzie Mack and their red-hot Soul Movers!
Listen to legendary hits recorded across Sun and Fame, Royal and Muscle Sholas studios blended with dance floor hits. For your second course, enjoy their spicy new album "Evolution" (recorded with Garth Porter and Tony Mitchell from Aussie super-group Sherbet!) and you'll be sighing, grooving, swooning and movin' all night long!
So grab your besties and join the Soul Movin' family to make some magical musical memories on Saturday, August 21!
Doors at 6.30 pm with our kitchen Girls Gotta Eatery open for dinner and snacks - full menu available
here