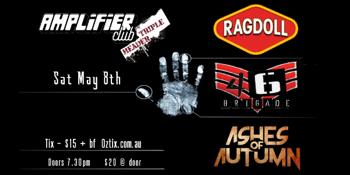 Ragdoll, 46 Brigade, Ashes of Autumn - Triple Header!
Amplifier Bar (Perth, WA)
Saturday, 8 May 2021 7:30 pm
Three huge bands @ one incredible price = one massive night!

Ragdoll - Renowned as one of the hardest working bands around, Ragdoll have barely stopped since hitting the road in 2015, playing countless shows throughout Australia, USA and Europe, including slots at the Rocklahoma festival and supporting Skid Row at the famed Whisky a Go Go.

46 Brigade - Their latest release "into the great unknown" was put forward by Around the Sound as one of their top five albums by a West Australian artist in 2020. "The music feels like a Bugatti Veyron, a thrilling blend of luxury and horsepower capable of carrying you along at breakneck speed and then stopping on a dime likely to take your breath away."

Ashes of Autumn - Heavily influenced by the Aussie and US rock scenes alike, Ashes of Autumn deliver dark, explosive rock melodies elegantly meshed with thoughtful lyrics. Nominated for Most Popular New Act at the 2020 WAM Awards, they will give you the dose of adrenalin you've been looking for!