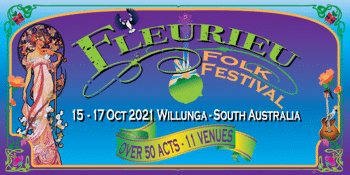 CANCELLED - Fleurieu Folk Festival 2021
Including Pete Denahy, Emma Dean, Toby Beard & many more
Willunga Recreation Park (Willunga, SA)
Fri 15 - Sun 17 October 2021 2:00 pm
HEADLINE ACTS ANNOUNCED | FLEURIEU FOLK FESTIVAL 2021
The volunteer organising committee of the Fleurieu Folk Festival are thrilled to announce the headline acts for the 2021 festival!
Friday 15 to Sunday 17 October sees South Australia's only dedicated folk festival celebrating its 15th year. The 3-day event is hosted in Willunga, just 45 minutes south of Adelaide, in the glorious Fleurieu wine region.
This year's headline acts cover the depth and breadth of the music scene – from bluegrass comedy, theatrical pop cabaret, honest and compelling singer-songwriter, contemporary world music, folk funk played on gourds, to exquisite, emotive Celtic classics. Here is what you can look forward to:

Pete Denahy | Victoria
When Pete Denahy talks about his own show, he says, "It's not rocket science; I'm not the best singer, fiddle player or guitar picker in the world, but as far as I know, no one else is doing my show." Which is true; there isn't another show like it. He blends fiddle tunes, bluegrass style original songs and madcap comedy to provide the audience with an escape from reality most of them feel is worth their while.

Emma Dean | Queensland
Emma Dean is an imperfect, romantic and passionate human-being who loves to write theatrical pop songs about love and the human spirit. With an impressive tour history and collaborations to be jealous of, Emma has performed cabaret Off-Broadway, Edinburgh and Adelaide Fringe Festivals, and even the Commonwealth Games opening ceremony.

Toby Beard | Western Australia
Western Australia's Toby is so much more than your average singer-songwriter. She powers through each live performance with her own lyrical talent and fierce, dynamic vocals, with audiences revelling in the genuine honesty of both her song writing and her performance. Her compelling vocals and the way in which she captures her audience can't be explained but just needs to be heard and seen. Her live performance truly is a treat.

The Royal High Jinx | Victoria
Dance. Virtuosity. Exhilaration. Melbourne's mesmerising contemporary world music band The Royal High Jinx have burst onto Australian festival stages with originality, virtuosity, and theatricality. Their songs and tunes are inspired by European traditions, peppered with Gypsy Jazz, Latin, Balkan & Swing grooves with a pinch of Folk. Sing with and dance to Australia's most colourful high energy band!

Totally Gourdgeous | Victoria
Formed in 1998, Australian band Totally Gourdgeous are four outrageously diverse singer/songwriter/musicians united under gourd. Indeed, playing instruments made from those woody cucurbits brings their music together to make folk funk philosophy to feed your wildest pumpkin longings. Punning Pathos. Heartfelt Hilarity. Messages of love, fellowship, and environmental sanity.

Siobhán Owen | South Australia
Welsh born Australian Siobhan is a Celtic / Classical singer and harpist with a unique vocal style – blending her ethereal soprano voice with heart wrenching Celtic lilts. Performing at festivals and concerts around Australia from an early age, Siobhan is rapidly gaining recognition on the international stage. Heart-wrenching traditional Celtic ballads entwined with original contemporary Celtic songs… all woven together by Siobhán's exquisite, emotive voice.

About the Fleurieu Folk Festival
Fleurieu Folk Festival is South Australia's largest and friendliest folk music festival. It's an annual three-day celebration of diverse music held in the picturesque township of Willunga, in South Australia's premier wine region, where the Festival has been held since 2007. Each year, the Festival present over 50 of the best local, interstate and international (pre COVID) musicians, over 11 venues, covering an eclectic range of genres including Celtic, Americana, Trad Folk, Blues, Roots, Bluegrass, Country and Acoustic. With workshops, sessions, dancers, blackboard concerts, musical theatre, poetry, spoken word and children's entertainment, as well as local food, wine and market stalls; there is truly something for everyone!
Camping available onsite.