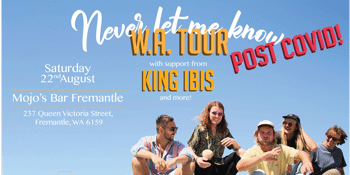 The Gusset "Never Let Me Know" W.A. Tour POST CO-VID!
King Ibis
Mojo's Bar (North Fremantle, WA)
Saturday, 22 August 2020 7:30 pm
The Gusset are keeping Summer alive with their latest sun soaked single "Never Let Me Know". Adding another indie rock anthem to their already massive set list, this spacey yet upbeat tune replicates the fresh seabreeze on a 40 degree scorcher.
Diving into new territory, the track captures bright dreamy pop guitar, plenty of space for the chorus to soar and let's not forget the addition of Patrick Nielsen on Keys. It's safe to say the boys have still stamped their signature sound and fans will be more than pleased with the direction they're heading!