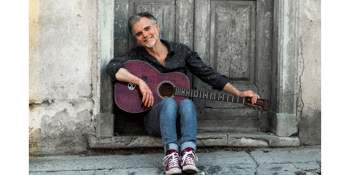 The Fyrefly (St Kilda, VIC)
Saturday, 19 October 2019 7:00 PM
The Voice of Moving Pictures
Flying Solo Tour
Dinner and Show
"FLYING SOLO" - THE VOICE OF MOVING PICTURES SOARS AGAIN
Lead singer of "Moving Pictures", Alex Smith will tour East Coast live-music venues in October 2019, performing his new album "The Thread" & celebrating the songs & artists that shaped his youth.
It's a long time since the intensity of the early 1980's, but the passion for singing & performance has never left him. As the younger brother of talented Blues Guitarist, Gypsy Dave Smith, Alex grew up listening to the music of artists like Muddy Waters & Brownie McGhee filtering through his bedroom wall. That deep connection with the rhythms & power of the blues, morphed on to form the backbone of his musical tastes and performance style.
living his personal history at the heart of the 80's Australian pop scene & as a celebrated vocalist and song-writer, Alex Smith a lot to reflect upon & say. His new CD album release "The Thread" (2018), combines classical inspirations from the ancient myths & powers of the three Fates, with his experience of life lived at full-tilt down through the decades. Alex's trademark skills as a lyricist & songwriter come shining through, while his smooth and original new music, reverberates with themes & storylines we all will recognise.
"Lemonade" - when life gives you lemons.
"Slow Train" – real love is all about the journey.
"Heaven Yet" – taking a leap of faith.
"Alex Smith is bright and erudite. He's a journeyman with two hands on the wheel & one eye on the world – a condition that saturates sharp & sure-footed story-telling. A pristine, dynamic voice is at the centre of songs awash with emotion and flooded by the ebb & flow of life."
Bennett, journalist, broadcaster.
The Flying Solo tour will blend Alex's new original material from "The Thread" with his powerful renditions of his favourite blues, soul and rock tracks. With performances of much-loved masterpieces by The Loving Spoonful, Bob Dylan, Buffalo Springfield, Leonard Cohen & The Who, the Flying Solo tour sees this celebrated voice ringing out again, as he performs throughout a variety of intimate venues, pubs & clubs in Sydney, Melbourne & Brisbane/GoldCoast.
See www.alexsmithsinger.com.au for further information.
Reserved Seating $25 inc bf
General Admission $20 inc bf
Dinners show available + $40 for 2 courses
Any unsold tickets will be available at the door on the night for an extra $5
Doors open/ Dinner: 7:00 PM
The show starts: 8:30 PM

THE FYREFLY
The Fyrefly is St Kilda's superb new dining, music and entertainment room located just down the stairs at Newmarket Hotel. Creature comforts meet sophisticated glamour, with outstanding facilities for the artists to play a huge variety of music styles including jazz, soul, funk, RnB, and even comedy.
OUR DINING EXPERIENCE
Aside from entertainment, an evening at The Fyrefly entails fine dining, top-shelf hooch and classy cocktails. We offer two or three-course dinner & show packages, or you can take your pick from our A La Carte Menu. Our menu showcases only the best locally sourced ingredients guaranteed to delight your taste buds.
CONNECT WITH US
Follow us on Facebook.
Learn more about The Fyrefly on our website.