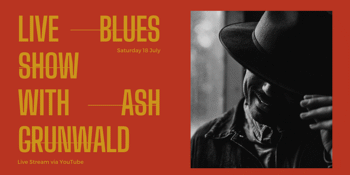 Live Blues Show with Ash Grunwald
Live Streaming WORLDWIDE (Your Home, NSW)
Saturday, 18 July 2020 8:00 PM
Ash Grunwald is upping the ante for his 3rd Live Streamed Show on Saturday July 18!
Join multi award winning, 5 time Aria nominated Australian Blues Legend Ash Grunwald for a unique Live Streamed Experience on LOCATION!!
We found this rustic old shack that was used as part of a movie set that will be perfect for transporting you into the moment with Ash as he stomps out some of his trademark soulful grooves.

This is a one off professionally filmed live show (via YouTube), with immaculate sound in which you can 'live chat' directly with Ash.
He will be playing Delta Blues from some of his key influences like Son House, Muddy Waters, Howlin Wolf, Robert Johnson as well as some of the stripped back one man band foot stompers he is famous for!

Whether chilling out in solo mode or partying; fire pit roaring, surround sound and big screen blazing this is a radical new way to spend your Saturday night!

Join Ash as he takes you on a trip through the history of the many artists that have influenced him. Tributes to the greatest Blues Legends of all time: Including Muddy Waters, Howlin' Wolf, Son House, Skip James, Big Mama Thornton, Sister Rosetta Tharpe, John Lee Hooker and Buddy Guy!
We are so excited to be pioneering a genuinely new form of entertainment where it is 100% live and more interactive than an in person gig yet you in the audience get to enjoy it on your own terms, however you like to roll!
Also go in the draw to win a Gretsch Guitar with every ticket purchased + loads more amazing prizes up for grabs!
What People are saying:
"I watched the first show. Loved it! Second show was even better. Improv was awesome too! Please keep going bro. I'm stuck at home ill for a few more months….Keeping it real. Unreal Man! P.s you did sound great on that Gretsch!"
"Watched this last night, love it! We had all our family together, thanks for letting us share your Friday Night. Looking forward to the blues show."
Awesome Gig as usual Ash!!! Love seeing you live and now watching you at home under the current climate"
"Thanks to all of you to make these live streams/show happen; Ash and team, as well as the fans - good fun reading comments tonight lol!"
"Thank you so much. Keep 'em' coming for us in the sticks with kids who can't make the live gigs!"
Absolutely fantastic love love love your music!"
"I've been to so many of your shows and every show has been different to the ones before. It was amazing, even though I was on my little dance floor on my own I felt part of something huge because of the feed from everyone who was watching on. Great job team, loved every minute and I hope that all the effort helps float you all along through these challenging times for a bit longer."
"I thought it was fantastic. I also thought the way you chatted naturally between songs and interacted with the 'crowd' made me feel like I was experiencing it with a like minded community celebrating, as opposed to just watching a screen! So basically it was perfect. "
"Our first night having friends over!! It was an absolutely fantastic gig and we were dancing all night! Thank you, Please do it again. "
" Ash and Team: We tuned into your live gig last Saturday night - it was epic and really appreciated. Thanks for going to the effort to think outside the box and entertain your supporters. Definitely do more!"
"It also highlighted to me some benefits that are difficult to achieve at a traditional gig, and they centre around accessibility. This gig was available to those with health issues that prevent them from travelling (as highlighted in one of the messages on the night) available to those who don't deal well with crowds for mental and physical reasons; those who live in the bush and just can't justify the travel to the coast; those who have been affected by drought and fire and can't afford the extra costs of travel, accommodation, food etc.; parents without ease of access to babysitters." And literally hundreds of comments flooded Ash's socials with comments similar to these.
".... I only have 3 words for you.... You Bloody Legend!!!!! You and your support team did a cracking job and smashed it....absolutely smashed it! Thanks for always providing the goods with your gigs!"